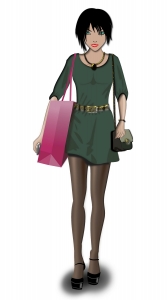 Welcome to the Two Classy Chics February Beauty and Fashion Event here on the blog! All during the month of February we will be bringing to you numerous reviews and reviews/giveaways of some great beauty items, skincare products, fashions, fashionable accessories and more!
In addition, we will be publishing some great fashion tips and fashion articles to get you all ready for the upcoming Spring season and beyond! While we are no fashion experts, we do love sharing with all of you some of our favorite finds!
Beauty & Fashion Reviews and Giveaways
Natural Eye Shadow Trio – Cowgirl Dirt Cosmetics
Dream Skin Beauty Pillowcase
Smoobee No Cry Hair Brush
Lotus Moon Body Trio Set
Skinfinite LOL Eye Serum
ENJOY Luxury Shampoo & Conditioner
Pearl Paradise Tahitian Pearl Pendant
Bottle of Tranquility Organic Shampoo & Argan Oil
Pacific Shaving Company – 3 Piece Shaving Set
$50 Credit to NeoCell
$60.00 GC to Umi Children's Shoes
3 Products from the Boots No7 Mens Line
Organic Orange Tea Tree Goat Milk Soap
3 Women's Spring Fashion Items + Parfum from Kohl's
3 All Natural Bath and Body Product from Siena Soap
Fashion Turquoise Necklace – The Little Bazaar
$50 g/c to Midnight Velvet
Shoe Along Hands-Free Shoe Bag
Body Butter & Massage Oil Candle – Tanya's Bath and Body
Beauty & Fashion Reviews
Spa Sonic Face & Body Polisher
Tony Ties – Pony Tail Holders from Mia Beauty
Adorn USA Handcrafted Designer Necklace
Miracle Skin Transformer – Lip Rewind
PerforMax Spring Jacket ~ Champion
GoodGirl Tees and Tanks
3-in-1 Maternity Dress and Gown – Dressed to Deliver
Virgin Olive Oil Day Cream – Organic Doctor
Dickinson's Original Witch Hazel Towelettes
Beauty & Fashion Articles & Tips
5 Mascara Application Tips
5 Tips to Extend the Life of Your Hair Color
How to Use a Face Bronzer for Good Results
Throughout the month we will update this list so keep checking back to see what is new! We hope you enjoy our event!
Shelly, Chris and the TCC Blog Team