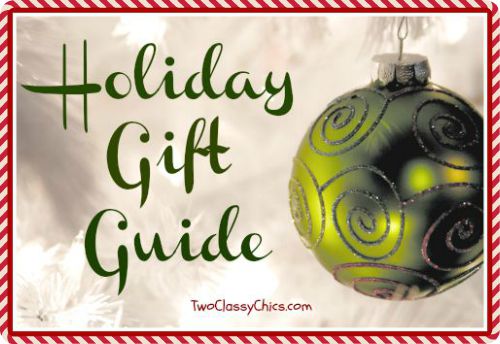 Welcome to our 2016 Holiday Gift Guide here on The Classy Chics blog! Our gift guide will run from October 1st through December 20th, 2016. This will give you plenty of time to plan out your gift-giving and gift-buying lists, to budget your purchases and trust me, we'll be introducing you all to some very cool things!
We will be continually updating this gift guide page as we go along and properly linking things from this page to the posts here on the blog. This way you'll be able to refer to this list and find things easily.
Holiday Giveaways:
$25 Value Surprise Pack from MAM Baby
Women's Leather Clogs from Superior Clogs
Indoor/Outdoor Door Mat from Entryways
Kid's Over-the-Ear Headphones from iClever
Aromatherapy Oil Diffuser from ToiletTree
Children's Shoes from Pediped
Set of 2 Kate and Mim-Mim Children's DVDs
Large Gift Set of Natural Tea from Inca Tea
The Kraken's Rules for Making Friends Children's Book
3 Foot Pampering Products from Aromafloria
Straw Cup and Kid's Bib Set from Silikids
Set of 2 Daniel Tiger Kid's DVDs
Cloth Tortilla Warmer & GOYA Cookbook
Stainless Steel Measuring Cups from 1EasyLife
Peppa Pig Children's DVD
Bouffants & Broken Hearts Adult Coloring Book
SoCozy Salon Hair Products for Kids Gift Set
20 Pull-Out Color-Your-Own Holiday Cards
Dorcy Pro Series Z-Drive Flashlight
Color-Your-Own Christmas Ornaments Punch-Out Book
Set of 2 Natural Bamboo Cutting Boards
Set of 2 Holiday Scented Body Washes from Softsoap
Around the World Adult Coloring Book
Mrs. Renfro's Salsas – Holiday Gift Pack
Microwavable Heated Neck Wrap – Sunshine Pillows
Wild Kratts Christmas DVD
2 Bags Frozen Blueberries from Wyman's of Maine
Automatic Touchless Liquid Soap Dispenser by ToiletTree
$15.00 e-Gift Card to Shop at Pavilion Gift Company
Cob Pocket Work Light – Flashlight from Dorcy
Cosmic & Eternal Love Adult Coloring Book and Music CD
America Patriotic Adult Coloring Book
K'nex Roller Coaster Building Set
Dust Fairy Tales Absolutely Aggie Kid's Book
Metal BBQ Meat Claws from 1EasyLife
$50 Gift Card to Shop at Unicef Market
Throw Blanket from Lush Decor
Bluetooth Boost-Sound Speaker from iClever
Child's Rain Umbrella from Kidorable
Children's Shoes from Pediped
Boho Chic Bracelet Set from KarmaViva
12-Pack Flameless Flickering Tealight Candles
Sugar Scrub & Body Butter Set – My Real Earth
Personalized Child's Holiday Book & Music CD – I SEE ME
Stick Man Children's Holiday DVD
Jumbo Monkey Kid's Snuggle Blanket/Mat by Hearthsong
Dorcy Rechargeable Flashlight with USB Car Charger
Cailou the Courageous Children's DVD
Gingerbread Cookies Jar Candle – One Fur All Pet House Candles
6-Sided Stainless Steel Food Grater from 1EasyLife
Dwayne Wade's Get It Hoops Basketball Game
Dorcy USB Powerbank Camping Lantern
Sophie's Seashell Scramble Kid's Game – Educational Insights
Light-Up Jewelry Organizer Craft Kit – Educational Insights
Learning Drums Toy Set – Learning Resources
Disney Junior at the Movies – Family 4-Pack of Tickets
Waterproof Flashlight from Dorcy
7 Christmas Classics on DVD
Plush Throw Blanket from Berkshire Blanket
Ocean Wonders Learning Toy – Learning Resources
The Secret Life of Pets Movie DVD
$50 e-Gift Card to Shop at Novica
Holiday Products & Gift Ideas:
The LEGO Christmas Ornaments Book
Men's Athletic Underwear from Separatec
Universal Multi-Use Tool from Kelvin Tools
Women's Charm Bracelet SOUFEEL
Saygoer Women's Travel Sling Bag
Hot Logic Personal Portable Oven
I Am Fragrances – Perfumes for Women
Framed Wall Art and Framed Prints
Rosie and Friends Children's Book
The Book of Kringle – Legend of the North Pole
15 Festive Vintage Sparkle Holiday Ornaments Kit
Set of 2 Natural Bamboo Cutting Boards
Modern Family – Complete 7th Season on DVD
Stainless Steel Measuring Spoons – Holiday Baking
Disney Palace Pets Art Studio for Kids
Metal BBQ Meat Claws
Very Christmas Children's Book
Santa's Apprentice & The Magic Snowflake Children's Movie DVD
Children's Books + Plush Animals from Kohl's
Powerpuff Girls Playset from Cartoon Network
Snowboogie Snow Sled by Wham-0
Soft Core Premium Colored Pencils – Prismacolor
Holiday Ornaments – Beth Quinn Designs
Holiday Recipes:
Lemon Frosted Cupcakes Recipe
Baked Granola Stuffed Apples Recipe
Banana Ricotta Ice Cream Recipe
Pumpkin Chocolate Chip Cookies Recipe
Homemade Creamy Hot Chocolate Recipe
Butternut Squash Risotto Recipe
Blueberry Bread Recipe – Foodie Holiday Gifts
Turkey Dry Rub Recipe
Pumpkin Spiced Latte Recipe
Pumpkin Pie Martini Cocktail Recipe
Pumpkin Whoopie Pies Recipe
Family Holiday Baking Traditions
Banana Bread with Chocolate Chunks Recipe
Cherry Bourbon Cocktail Recipe
Homemade Blueberry Cobbler Recipe
Giant Chocolate Chip Cookie
Holiday Articles, Crafts and Tips:
How to Put Together a Coffee Gift Basket
5 Creative Gift Wrapping Ideas
Craft Project: Snowman Snowball Christmas Tree Ornaments
Craft Project: Toilet Paper Tube Snowman Christmas Ornaments
Medicine Cabinet Must-Haves: Cold & Flu Season Article
Thanksgiving Glitter Pumpkins for Your Table or Mantle
Kid's Crafts: Glitter Star Christmas Tree Ornaments
Reversible Wood Snowman and Scarecrow Yard Art Craft Project
Kid's Crafts: Peppermint Candy Holiday Ornaments
Kid's Crafts: Plump Toilet Paper Roll Snowman
Christmas Candy Trains for the Kids
* This post contains affiliate links. If you make a purchase, we may or may not receive a small commission which helps to support this site. Thank you!
Happy Holidays and Merry Christmas 2016!
Shelly, Sam, Jenelle and the TCC Writers