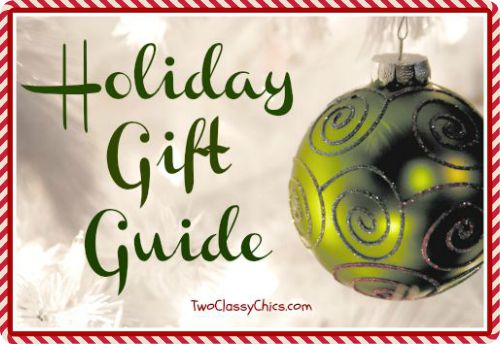 Every year the Two Classy Chics proudly unveil a holiday gift guide and this year is no exception! The holiday gift guide will officially run from October 1st through December 15th, 2015.
We love to help our sponsors connect with our readers and vice versa. By putting together an annual holiday gift guide we can highlight products that we think would make excellent gifts this holiday season.
You will want to access this page often or bookmark it directly as it will be updated daily throughout the gift guide time period. In addition, there will be a special board on Pinterest to help give you a quick visual guide too!
Reviews and Giveaways
HomenYard.com – $50.00 e-Gift Card
Aromafloria – DIY Body Butter Beauty Kit
Superior Clogs – Women's Leather Clogs
Pet House Candles – Apple Cider Jar Candle
Seaside Pearls – Pearl Amy Necklace
World Vision – Royal Silk Scarf
ZippySack – Children's Bedding
Fricaine – Exotic Handbags
Dorcy – Rechargeable Power Bank Lantern
Sunshine Pillows – Chiropractic Neck Support Pillow
Paper Towns – Movie DVD
Grandparent Gift Co. – $25.00 e-Gift Card
Torchbearer Sauces – 3 Bottles of Barbecue Sauce
Urban Girl – Kate Spade Nesting Boxes
Berkshire Blanket – VelvetLoft Plush Scarf
SentrySafe – Quick Access Pistol Safe
Baby Magic – Baby Products Gift Set
BuyCoolShirts – Choice of T-Shirt Under $25
YangtzeStore – Black Floral Silk Chiffon Scarf
Learning Resources – Pretend Coffee Shop Set
Peace. Joy. Color. Holiday Cards – Decorate It Yourself Cards
HomenYard – $50.00  e-Gift Card
Top Secret Recipes Cookbook – Step by Step Guide
Softsoap – Set of 3 Holiday Scented Body Washes
Dorcy – Rechargeable USB Speaker Lantern
Magic Cabin – Kid's Croquet Game Set
Trainwreck – Unrated Movie DVD
Leslie Sansone – Burn to the Beat Walking DVD
Learning Resources – Gears Gears Gears Sweet Shop Set
BabyBowTie – Baby Bow Tie + Girl's Bow Headband
ProCompression – Marathon Knee High Socks
Pet House Candles – Holiday Scented Jar Candle
Santa's Little Helper – Movie DVD for Family Night
Torchbearer's Sauces – 3 Bottles of BBQ Sauce
YangtzeStore – Women's Floral Print Scarf
Kentucky Soaps & Such – Prize Pack of Goodies + Book
7 Charming Sisters – Gorgeous Necklace – Jewelry
Sunshine Pillows – Heat Pain Relief Pads
Decobreeze – Sweater Knit Christmas Ornaments
Dorcy – Rechargeable Power Bank Lantern
Metal Stamped Memories – Baby Footprints Keepsake Necklace
I SEE ME – Personalized Child's Book and CD
Flagology – Personalized Garden Flag
AdoramaPix – Metal Photo Wall Print
Thirty-One Gifts – Utility Tote Bag
The Wagon Store – Insulated Cooler Tote Bag
Wisconsin Cheeseman – Meat & Cheese Gift Assortment
Topganic – Hair Design Styling Cream with Argan Oil
MAM – Holiday Baby Pacifiers & Pacifier Wipes
Garlic Gold – Foodie Gift Box
Quatro Knows – Set of 2 Adult Coloring Books
Kidorable – Kid's Fashion Umbrella
Angel's Sing – Holiday Movie DVD
Thesis Beauty – Mermaid Seaweed Facial Masks
Guylian – 3 Boxes of Chocolate Truffles
Boo Boo's Best – Prize Pack of Dog Treats
Novica – $50 e-Gift Card
Fantastic 4 Blu-Ray Movie DVD
Top Mates – 3 Jars Gourmet Finishing Sauces
AdoramaPix – Custom Canvas Wall Art Print
Good Earth Beauty – Cranberry Fig Perfume Oil
Green Goo – Natural Skin Care Products Travel Gift Set
DVD – Maze Runner: The Scorch Trials
HedgeHugs – Hardcover Children's Book
SlimSonic Toothbrush by Violife
Dorcy – Powerbank Flashlight
Product & Gift Reviews –
Brilliant Puzzles – Star Wars 3D Metal Model Kits
Minx NY – Socks for Women
Discovery Kids – Stars & Planets Space Projector
Duri – Nail Polishes
Animal Planet – Animal Learning Pad
Animal Planet – ABC Animal Floor Puzzle
Betty Boop – Top 5 Betty Boop Fashion Gifts
Lost My Name – Personalized Children's Book
FramedArt.com – Framed Artwork Holiday Gifts
Crane – Ultrasonic Cool Mist Humidifier
Animal Planet – Animal Harness Backpack for Kids
Kerusso – Christian Holiday Gifts
Jabra Eclipse – Wireless Headset
Southpaw – Movie DVD
Betty Boop – Fashionable Holiday Gifts
BloomsyBox – Monthly Delivery of Fresh Flowers
Chocolate – Gourmet Chocolate Holiday Gifts
Vincent Peach – Pearl and Leather Jewelry
GuruNanda – Oil Diffuser with Mood Lights
Trudeau – Top 5 Foodie Stocking Stuffer Gifts
Oregon Scientific – PROJI Projection Alarm Clock
Ohuhu – Flameless Color-Changing Candles w/Remote
RYOBI – Plunge Base Router – Power Tools
Duri – Stocking Stuffers Nail Polishes
Olympia – Personal Safety Flashlight
Caboodles – Bags and Organizers for Women
Ohuhu – Solar Path Lights
HomenYard – Christmas and Holiday Home Decor
Card Game – Table Manners Card Game for Kids
Steven Universe – Cartoon Network Fleece Blanket
Hedbanz – Game for Family Game Night
Gnoments – Bring Magic Back to Relationships
Zazzle – Personalized Photo Holiday Greeting Cards
Reindeer Dust – Holiday Books for Kids
Dakota Watch Company – Fashion Watches
HABA – Animal Upon Animal Stacking Game
BuppaLaPaLoo – Interactive Talking Teddy Bear
YooKidoo – Lights and Music Ball for Kids
Serenity Acres Farm – Goat Milk Soaps
7 Charming Sisters – Cape Cod Necklace
Christmas Cookies – A Cookbook for the Whole Family
Snappers – Gourmet Chocolate Pretzel Treats
Beauty Gift Ideas for Christmas 2015
Holiday Recipes –
Diva Sangria Cocktail Recipe
Mango BBQ Marinade for Chicken Recipe
Cherry Shandy Cocktail Recipe
Tiramisu Recipe
Oatmeal & Chocolate Chunk Cookie Bars
Tips for Cooking a Holiday Turkey Outdoors
Gourmet Peppermint Hot Cocoa Recipe
3 Holiday Cocktail Recipes
Peanut Butter Cookies Recipe
Classic Pumpkin Pie Recipe
How to Decorate Holiday Cakes and Cupcakes with Ease
Cheesy Butternut Squash Casserole
Butternut Squash Puff Pastry
Sam's Baked Corn Bread Recipe
Easy Holiday Entertaining and Party Tips & Ideas
4 Delicious Holiday Cocktail Recipes
Double Chocolate Chip Candy Cane Cookies Recipe
Drop Sugar Cookies Recipe
Country Crock Pumpkin Pie Recipe
Holiday Treat Ideas for Kids
Modified Chocolate Chip Cookies Recipe
No Bake Honey Cheesecake Recipe
Reese's Chewy Chocolate Cookies Recipe
Pumpkin Puff Cookies Recipe
Coconut Cacao Truffles Recipe
Grandma's Pumpkin Bread Recipe
Cranberry Rice Pudding Recipe
Sweet Potato Kale Soup Recipe
Pumpkin Chocolate Brownies Recipe
Holiday Crafts –
Ribbon Christmas Tree Ornaments
Painted Ceramic Tile Beverage Coasters
Edible Gingerbread House & Snow Village
Wooden Airplane Christmas Tree Ornaments
Snowball Snowman Ornaments
Penguin Craft Stick Ornaments
Wood Clothespin Sled Christmas Tree Ornaments
Wood Clothespin Snowflake Ornaments
Holiday Articles and Topics –
6 Money-Saving Tips on Buying Snow Blowers
Tips for a Stress-Free Holiday Season
Holiday Entertaining Made Easy with Meat & Cheese Trays
Easy Adult Holiday Party Ideas and Party Tips
Save Time & Money This Holiday with these Travel Tips
How to Buy Christmas Gifts this Year
Hershey Sweet Lights – Holiday Light Displays
Celebrating Baby's First Christmas
Thanks for joining us here on TwoClassyChics for another Holiday Gift Guide this year! Merry Christmas and Happy Holidays!