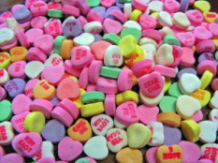 Today is Friday, February 9th, 2018. Welcome to the Friday ~ Week in Review post! I will be doing these posts every Friday to update you all on what happened throughout the week, so everyone can get caught up on the things they may of missed!
Quote of the Week: If you don't like something change it; if you can't change it, change the way you think about it. — Mary Engelbreit
Giveaways:
Organoderm Foaming Natural Organic Cleanser
Scratch & Create: Amazing Endangered Animals Book
Instant Wall Art: Ready-to-Frame Vintage Textile Prints
Complete Month of Meals Collection Cookbook
Reviews:
Movie Review – LEAP
Articulated Animal Toys and Playsets
Rimmel London Lasting Finish Breathable Concealer
Leathercraft Tech Gear 53 Pocket Lighted Backpack
Soft Pretzel Twists from Sonic Drive-In
General Posts, Recipes, Crafts, Articles & More:
Get $3 When You Sign Up for Swagbucks in February
Mini Chicken Meatball Pasta Cups Recipe
How Vitamin B12 Helps Prevents Memory Loss as You Age
Quinoa Pasta Mac and Cheese Recipe
Mailbox Monday – Month of February
4 Easy-to-Make Homemade Popsicle Recipes
Horse Talk – Is Owning a Horse Right for You?
Travel – Family Fun at the Lititz Springs Park
Cinnamon Orange Hot Cocoa Recipe
Wow, what a week! My husband and I flew out to Las Vegas for a few days and just got back. It was the first time that we had ever been to Las Vegas, or out west for that matter. We had a great time!
I would like to thank all of our readers for taking time out of their busy week to visit the blog, read our posts and enter the giveaways. We hope everyone enjoys their upcoming weekend.