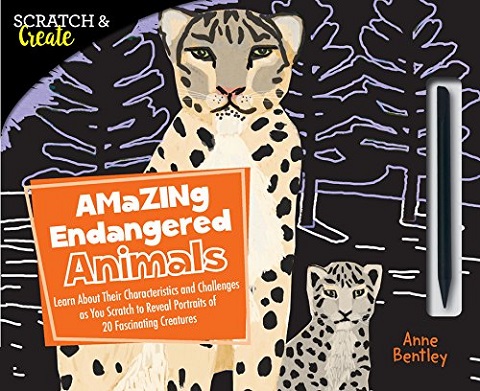 How many of you enjoy sitting down with an adult coloring book? I know, I do! I find adult coloring to be relaxing and a great way to unwind after a long day. For those of you who enjoy adult coloring books, I think you're really going to enjoy this scratch art book. Here's some information about the book that I'm featuring today.
* Complimentary Book Received for Review & Feature.
Title: Scratch & Create: Amazing Endangered Animals
By: Anne Bentley
ISBN: 9781631593956
Publisher: Rockport Publishers, an imprint of The Quarto Group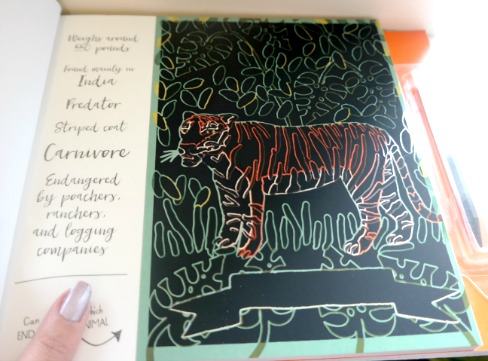 Learn about 20 endangered animals in this relaxing and beautiful scratch art book. Read fascinating facts about the challenges these creatures face, the habitats they live in, and see if you can guess which creature is being described as you scratch away the metallic coating to reveal 20 beautiful animal portraits by the artist, Anne Bentley. Each of the amazing animal portraits are on perforated pages, ready to tear out and display.
Some of the creatures you'll learn about and create scratch art includes:
Black Rhino, Orangutan, Elephant, Plains Bison, Bengal Tiger, Gorilla, Bonobos, Chimpanzees, Polar Bears, Red Panda, Giant Panda, Galapagos Penguin, Sea Lions, Leopard, Blue Whale.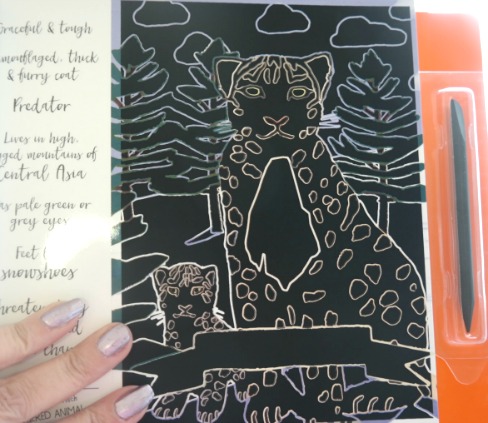 Each book comes with everything you need to get started. You'll create 20 animal portraits and each perforated page is easy-to-remove from the book. You'll get one stylus, an exclusively designed tool to remove the silver color ink coating.
We recently took a road trip through northwestern Pennsylvania and eastern Ohio, and had a wonderful time. With that said, we spent a LOT of time driving around in the car, sometimes 5-6 hours a time. I took my new Scratch & Create: Amazing Endangered Animals along with me on the trip and wow…I'm so glad that I did! The book kept me occupied while spending hours in the car and was really convenient to tote around with me.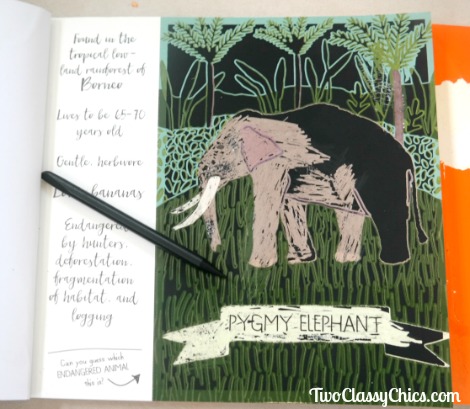 Everything that you need comes with the book. You read the printed facts about the animal and try to guess which animal it is. The included stylus is easy-to-use and you can get a page done in about 20 to 40 minutes. Fun stuff for sure!!!
If you enjoy sitting down with an adult coloring book or working on puzzle books, I think you would really enjoy the new Scratch Art books that are hitting the retail marketplace. I've been working on my book for the past 2 weeks and really enjoy it!
* This post contains affiliate links. If you make a purchase, we may or may not receive a small commission which helps to support this site. Thank you!
Giveaway: One lucky winner is going to win the Scratch & Create: Amazing Endangered Animals Book from Rockport Publishers, an imprint of The Quarto Group. Good Luck!!!
Giveaway Details: This giveaway is open to residents of the US ONLY age 18 and over. Please read our Terms of Service & Disclaimer Policy before entering. This giveaway will close on February 27th, 2018 at 11:59 pm EST time. No purchase necessary to enter or win.

Disclaimer: Shelly received a complimentary product to feature in this recipe & foodie blog post. She did NOT receive any monetary compensation. Regardless of receiving a complimentary product, her thoughts, words and opinions are 100% her own, unbiased thoughts. Your opinions may differ. Please read our terms of service policy before entering any giveaways on this site. We're not responsible for prize fulfillment or shipment of prizes to the winners.