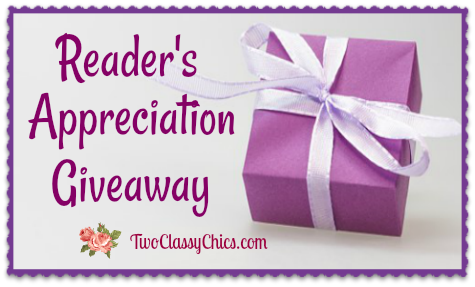 The Two Classy Chics blog got its original start in late 2009 and has underwent a lot of growth and changes over the years. When the blog first got its start it was simply a product review blog. Then 3 1/2 years ago the blog underwent a big change, becoming a more rounded Mom and Grandmother Lifestyle Blog. While we still offer up product reviews and host giveaways, we now pride ourselves in offering our readers valuable content in the form of how-to articles, cleaning tips, craft projects, easy to make recipes, weekly family-friendly travel features, parenting tips, gardening how-to's and a lot more! Simply put…we think of ourselves as more of an online magazine for women! As an added bonus, we keep all advertising on this blog very limited!
In honor of our blog turning 9 years old…we wanted to host our own Reader's Appreciation Giveaway!!! We love our readers and we appreciate the time that they take out of their day to come over to our blog! We enjoy reading all of your comments that you leave on our blog posts…yes, we do read them!
Over the next 4 weeks we'll be offering up a few "Reader's Appreciation Giveaways" and today we're kicking off our first one! Are you ready? Let's go!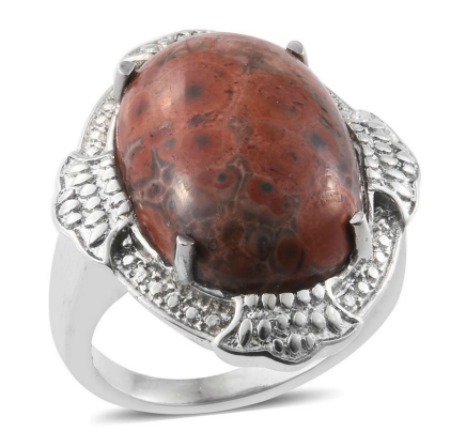 Giveaway: One lucky winner is going to win a brand new Poppy Jasper Stainless Steel Ring in a women's size 7.  The Total Gem Weight (TGW) is 16.25 carats. The winner will receive a women's size 7 ring and it will arrive in a pretty little gift box. Keep it for yourself or give it away as a gift! Good Luck!
Giveaway Details: This giveaway is open to residents of the US ONLY age 18 and over. Please read our Terms of Service & Disclaimer Policy before entering. This giveaway will close on March 10th, 2018 at 11:59 pm EST time. No purchase necessary to enter or win.

Disclaimer:  The Two Classy Chics blog is personally sponsoring this giveaway and will ship the prize to the winner after the giveaway has concluded.  This giveaway is NOT being sponsored by any company/brand. Please read our terms of service policy before entering any giveaways on this site.