Everyone knows that football is only one piece of the Super Bowl experience. We love the half-time spectacular (hello, Justin Timberlake!) and even look forward to the commercials. But really, unless you're lucky enough to have seats at U.S. Bank Center on February 4, it's all about the party.
Pereg has some tips for elevating your all-star spread way beyond junk food without sacrificing the big, satisfying flavors they crave. If a healthier Super Bowl is your goal (pun intended), you'll feel good about these easy treats made from wholesome ingredients with no additives or preservatives. Pereg's wide selection of exotic whole grains, pastas, and seasonings perks up your table as well as your health. Fresh and all-natural, they are verified non-GMO and certified kosher; many products are vegan and gluten-free. Pereg never uses MSG or food coloring.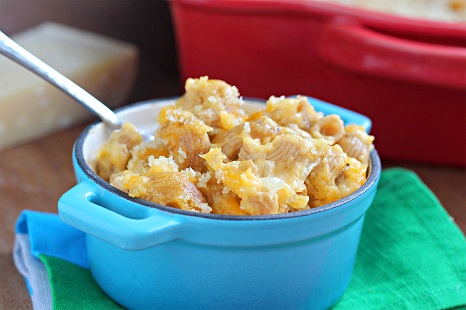 Quinoa Pasta Mac and Cheese Recipe
1 package Pereg Gourmet Quinoa Curvo Rigate (8oz)
2 1/2 tablespoons all-purpose flour (or brown rice flour)
1 teaspoon dry mustard
1/4 teaspoon nutmeg
4 tablespoons butter, plus more to butter the pan
1 small onion, diced
Salt
2 cups milk (2% or whole milk)
1/2 teaspoon black pepper
10 ounces sharp cheddar cheese (about 3½ cups)
1 cup shredded Parmesan cheese
1/2 cup Panko breadcrumbs
2 Tablespoons butter, melted
Pre-heat oven to 350 degrees F.
Bring 4-6 quarts of water with ½ tablespoon salt to a boil in a large stockpot. Add pasta and return to a rapid boil. Cook uncovered stirring occasionally until pasta is al dente, about 6 minutes. Drain well and set aside.
In a small bowl, whisk together flour, dry mustard and nutmeg.
In a large stockpot, melt 4 tablespoons butter over medium heat. Then add onions and a pinch of salt and sauté until onions are translucent, 5-7 minutes.
Add the flour mixture to the onions and cook for a few minutes until the fat is absorbed and you form a roux.
Then add in the two cups milk and bring to a simmer over medium-high heat. Simmer for 5-10 minutes until sauce is thick and smooth.
Add in black pepper, 3 cups cheddar cheese (reserve ½ cup for the topping) and Parmesan cheese and combine. Season to taste with salt.
Stir in pasta and mix until combined.
Spread the pasta in a 9×9 inch casserole dish.
In a separate bowl, combine Panko breadcrumbs and 2 tablespoons melted butter. Sprinkle remaining cheddar cheese over the pasta and top that with
Bake for 15-20 minutes (uncovered) until cheese is bubbly and the top is lightly browned. Let cool 5 minutes and serve.
* This post contains affiliate links. If you make a purchase, we may or may not receive a small commission which helps to support this site. Thank you!