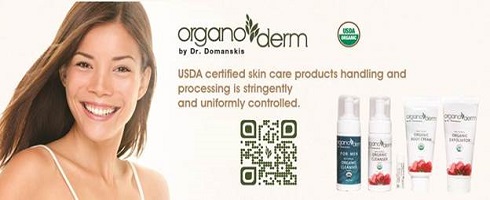 Last year I turned 50 years old and it was a hard birthday to swallow. While I don't really mind growing older, I do mind how I look as I do it. Although I've always looked younger than my real age, things are now starting to change. Those fine lines and wrinkles are starting to creep in and my skin has become overly-dry and sensitive. Due to the changes in my skin…I went on a hunt for a new facial cleanser and I'm excited to tell you about it today.
* Complimentary Product Received for Review.
Let me introduce you to the company called Organoderm based out of the great state of California. The entire line of skin, bath and body products sold by Organoderm were formulated by a plastic surgeon named Dr. Edward Jonas Domanskis, who spent 10 years researching and developing the line from natural and organic ingredients.
When you visit the Organoderm online store you'll find organic anti-aging products, body washes, face cleansers, moisturizers, exfoliators and a lot more! They really offer something for every woman at every stage in her life.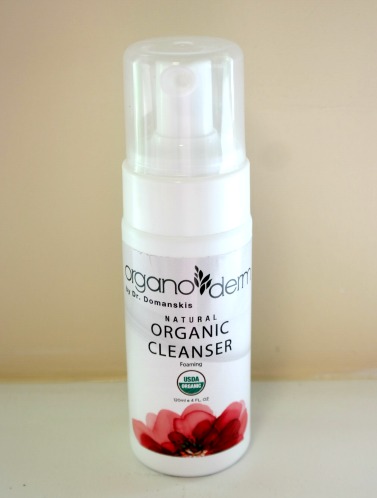 For this review I received the Organoderm by Dr. Domanskis Natural Organic Foaming Cleanser to try out for all of you. The product comes in a 4 fl. oz. pump-style bottle which is easy-to-use and makes absolutely no mess! Great to use at-home or to travel with!
The cleanser was formulated with organic ingredients to soothe and protect the skin without drying. Natural plant moisturizers help to maintain the skin's pH balance. You can use the foaming cleanser on your face and body.
To Use: Shake well. Mix one pump of cleanser with water and massage in for 30 seconds, rinse off with warm water.
Right before I started using the Organoderm Organic Foaming Cleanser, I did an assessment of my skin's condition. I had a lot of dryness across my forehead, around my nose and across my upper cheeks. I had uneven rough patches on my chin. My skin always gets severely dry during the harsh winter season and it was definitely showing it.
Every day for the next 14 days I used the product to wash my face before going to bed. Sometimes I used my hands to wash my face and at other times I used my electronic facial scrubbing brush when I needed a good deep-down cleaning. You can use it either way!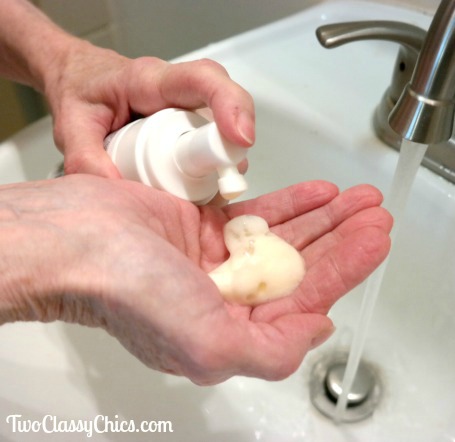 One of the things I really love about this cleanser is the "foaming" consistency to it which makes application super-easy! As you massage it into your skin it feels really good and it rinses off quickly. It did a fantastic job at removing my sunscreen and make-up products too! A little bit of the product goes a long way!!!
After 14 days I noticed that I no longer had any dry patches of skin. NONE and I mean…absolutely NONE! My skin now looked moisturized, youthful and my skin-tone was more even. While using the product I never experienced any sort of skin irritation, so if you have skin sensitivities, this is definitely a facial cleanser that you need to try.
I couldn't be happier with my new Natural Organic Foaming Cleanser from Organoderm. I'm still using it and I'm very pleased with my results. Matter of fact, I'm still using it and will continue to do so!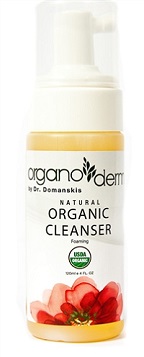 Giveaway: One lucky winner is going to win a 4 fl. oz. bottle of the Natural Organic Foaming Cleanser from Organoderm.
Giveaway Details: This giveaway is open to residents of the US ONLY age 18 and over. Please read our Terms of Service & Disclaimer Policy before entering. This giveaway will close on February 26th, 2018 at 11:59 pm EST time. No purchase necessary to enter or win.

Disclaimer: Shelly received a complimentary product to feature in this recipe & foodie blog post. She did NOT receive any monetary compensation. Regardless of receiving a complimentary product, her thoughts, words and opinions are 100% her own, unbiased thoughts. Your opinions may differ. Please read our terms of service policy before entering any giveaways on this site. We're not responsible for prize fulfillment or shipment of prizes to the winners.