Looking for some new appetizer recipes to try out? If so, I think you're going to appreciate our guest-post recipe today. The recipe is courtesy of Stephanie Harris-Uyidi. Stephanie is a national TV personality and producer and host of The Posh Pescatarian, a popular travel-adventure cooking TV series airing in more than 15 countries on the Z Living network.
Here's what she has to say about it: My lemon infused smoked trout spread is creamy and tangy from the goat cheese with just the right amount of richness from the smoked fish. This is my go-to recipe for appetizers, brunch and snacks. For brunch you can spread it on a bagel for along with sliced cucumbers and tomatoes and for your weekly meal prep its great for dipping carrots, celery or whole- wheat pita. Anyway you use it is divine!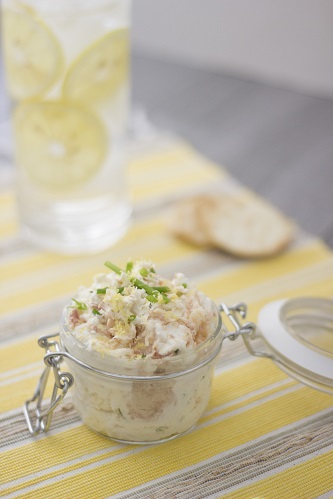 Lemon Infused Smoked Trout Spread Recipe
3 ounces of Chèvre (goat cheese)
6 ounces cream cheese, softened
2 teaspoons lemon zest
1 tablespoon lemon juice
2 tablespoon fresh chives, chopped
6 ounces smoked trout in olive oil, drained and flaked (reserve oil for other use) Juice of 1/2 a lemon
Sea salt to taste
By hand or with a mixer, blend the cream cheese with the lemon zest, lemon juice and chives. Gently fold in the smoked trout. Taste the spread and add sea salt as desired. Allow the mix to chill in the refrigerator for 15 minutes prior to serving.
* This post contains affiliate links. If you make a purchase, we may or may not receive a small commission which helps to support this site. Thank you!