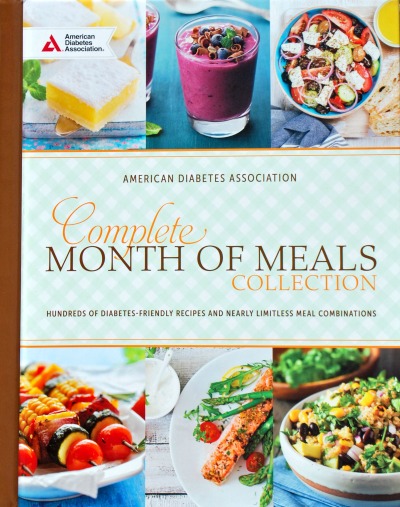 Diabetes is serious. I know just how serious, having been my diabetic mother's caregiver for the last years of her life. Understanding the importance of maintaining healthy weight and glucose levels is the foundation of controlling diabetes. That can be overwhelming, but fortunately, the American Diabetes Association (ADA) is here to help. Today I'd like to tell you about an extremely helpful cookbook from the ADA, the Complete Month of Meals Collection: Hundreds of Diabetes-Friendly Recipes and Nearly Limitless Meal Combinations.
* Complimentary Cookbook Received for Review.
Although this cookbook is designed specifically for people with diabetes, the recipes will appeal to everyone. It includes a wealth of information about food choices, meal planning, and caloric requirements, all presented in an easy-to-understand way. I think a light bulb went on over my head when reading the explanations of why certain foods are best for people with diabetes. I wish I had that information when I was cooking for my dear mother! But even though I'm not currently cooking for anyone with diabetes, I know I'll be using my newfound knowledge to make better choices in general.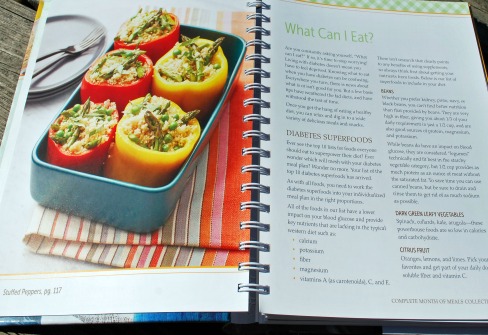 The Complete Month of Meals Collection is set up to encourage meal planning, including a handy Menu Tracker that can be copied and used to plan and track a day's meals and snacks to meet specific calorie, carb, and fat goals, essential for diabetics. To make meal planning even easier, the center section of the book has pages split into threes, with breakfast recipes at the top, lunch recipes in the center, and dinner recipes at the bottom. It's fun to flip the partial pages back and forth, discovering new combinations that can comprise a day's meals.
The next section of the book is more conventional, with additional recipes for meals as well as sides, salads, sauces, dressings, desserts, and drinks that can deliciously round out a day's food intake. Honestly, I think this book's title is deceiving, since it could supply many months worth of meals and snacks!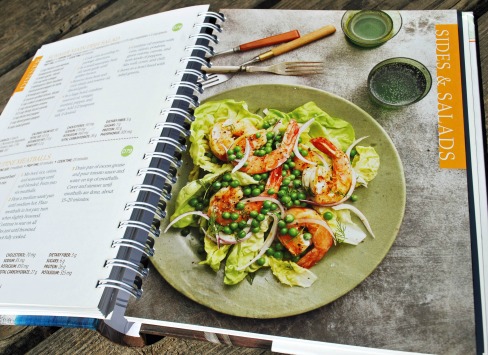 Yet another useful feature of the Complete Month of Meals Collection is its coil binding, which allows the book to lay flat. This may seem like a simple thing, but when you're in the middle of preparing a recipe and need to check it, it's wonderful to have the book already open to the page you need.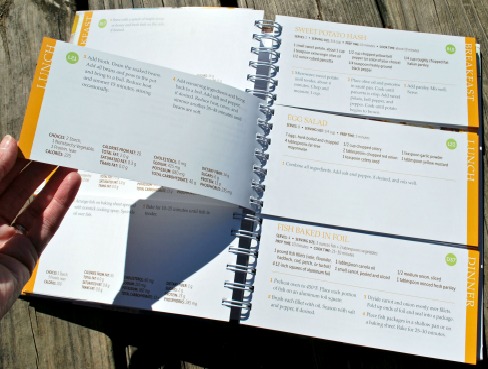 Many of the lunch recipes require a lot of prep or long cooking times, so they'd be best prepared ahead of time and divided into serving-sized portions for serving at lunch time. On the other hand, some of the recipes are extremely simple, and it seems to me that the main benefit of their inclusion in the book is to provide their nutritional information. For example, I may not need a recipe to make a simple sweetened, broiled grapefruit, but if I needed to know the exchanges or the number of grams of fat, carbs, etc., I'd be happy for the recipe's inclusion in the book, since having that data would be invaluable.
* This post contains affiliate links. If you make a purchase, we may or may not receive a small commission which helps to support this site. Thank you!
Giveaway: One lucky winner is going to win their own copy of the Complete Month of Meals Collection from the ADA!
Giveaway Details: This giveaway is open to residents of the US ONLY age 18 and over. Please read our Terms of Service & Disclaimer Policy before entering. This giveaway will close on March 3rd, 2018 at 11:59 pm EST time. No purchase necessary to enter or win.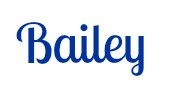 Disclaimer: A. Bailey received a complimentary product for review purposes & feature on The Classy Chics blog. No monetary compensation was received. A. Bailey's thoughts, opinions and words are 100% her own. Your thoughts may differ. Please read the blog's terms of service policy before entering any giveaways. The Classy Chics are NOT responsible for prize fulfillment or shipping of any items won from this blog.