How many of you drink hot cocoa? I know that I do and during the late Fall through the Winter season, I drink it almost every day. I will drink classic hot cocoa more often than not, but I also enjoy some of the non-traditional flavors too.
Our guest post recipe is courtesy of Limoneira. You can visit their website to learn more about the company, their products and to grab some additional recipes.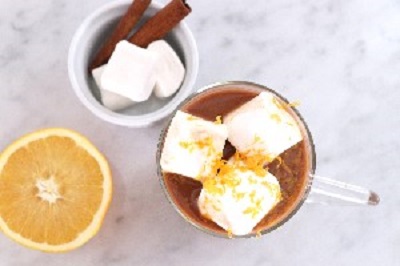 Cinnamon Orange Hot Cocoa Recipe
1 cup fresh squeezed Limoneira orange juice
2 cinnamon sticks
2 cups non-dairy milk
3 tbsp raw cacao powder
3 tbsp real maple syrup
1 pinch sea salt
Directions: Juice a Limoneira navel orange. Add cinnamon sticks and orange juice to a small pot and simmer for 5 minutes. Then remove the cinnamon sticks, and add the milk, maple syrup, cacao powder and just a pinch of sea salt. Whisk everything together until the hot cocoa is silky smooth. Finally, place back on the stove and heat until bubbling. Pour into mugs, top with just a couple of marshmallows (to taste) or even a cinnamon stick, and just a dash of navel orange zest as a finishing touch. Serve and enjoy!
* This post contains affiliate links. If you make a purchase, we may or may not receive a small commission which helps to support this site. Thank you!