The winter weather here in Southern California is definitely doing a number on my skin these days. While we don't get the snowstorms that require chains on our tires and snowplows on our streets, we have had a run of dry, hot weather that is not only confusing the heck out of my plants, but my skin as well. I know, cry me a river.
* Complimentary Product Received for Review.
My skin typically goes from oily to dry depending on the time of year, but this year, I'm experiencing dryness and irritation on my forehead that is pretty extreme. Lucky for me, I was sent a wonderful face mask from Osmosis Skincare that is saving the day (and my skin). Osmosis Skincare's Tropical Mango Barrier Face Mask is ideal for soothing dehydrated, dry skin with its creamy mango scented mask that is rich in fruit and nut butters.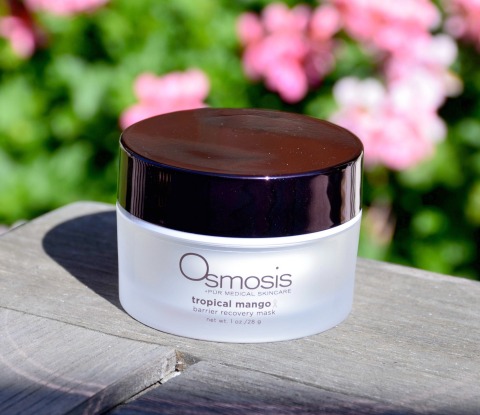 Osmosis Skincare's Tropical Mango Barrier Recovery Mask features nut and fruit butters and oils to restore the skin's lipid barrier, which can experience the winter blues no matter where you live. The mask is velvety and smooth and has a wonderful scent with its star ingredient, Mango Seed Butter. Other key ingredients include other Sunflower Seed Oil, Shea Butter, Avocado Oil, Murumuru Seed Butter, and Olive Fruit Oil, which all work together to calm and hydrate the skin.
This cruelty-free, gluten-free, vegan product contains ingredients that are not only rich in vitamins and minerals, but have anti-inflammatory properties as well, which help to soothe and replenish and return moisture and nutrients back into the skin.
I have noticed a difference since I've been using the mask. My skin feels less irritated and feels totally hydrated. You simply massage a thin layer into the skin for about 2 to 3 minutes, then apply a warm washcloth to the skin and allow it to remain on the skin until the temperature is lukewarm. Gently lift and remove the towel without wiping the skin and massage for an additional minute.
The Osmosis Skincare Tropical Mango Barrier Recovery Mask is available on the company's website and you can connect with the company on Facebook.

Disclaimer: Kristine has personally reviewed the product listed above. She has not received any monetary compensation for her review but did receive a free product to try out so she could evaluate and use it for her review. Her thoughts & opinions in this review are unbiased & honest and your opinions may differ.