Twice a month I like to make a batch of homemade popsicles for my family to enjoy. Making your own popsicles is quite an easy process and trust me, they taste a lot better than their store-bought counterparts. Plus, you're controlling the ingredients and often times you're saving money by making them at home.
To make homemade popsicles you'll need to purchase a reusable popsicle mold and you'll need either a blender, electric mixer or wire whisk to whip up the ingredients. Other than that, you don't need much at all.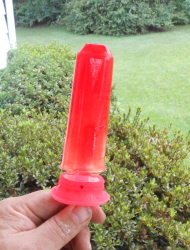 Here are 4 Easy-to-Make Homemade Popsicle Recipes for you to try.
Homemade Fudgesicles Recipe
4 oz. pkg. instant chocolate pudding
2 cups cold milk
1/4 cup granulated sugar
1 cup canned evaporated milk
Combine the pudding and 2 cups milk. Beat for 2 minutes. Stir in the granulated sugar and canned milk. Pour in to popsicle molds. Freeze.
Banana Chocolate Pudding Pops Recipe
1 cup cold milk
1 box Instant Chocolate Pudding Mix
2 Bananas
In a blender combine the milk and box of Instant Chocolate Pudding Mix. Blend until smooth. Unpeel banana's and add them to the blender and puree until all of the mixture is mixed smooth. Pour into ice pop molds and insert sticks and freeze for 6 hours before serving.
Banana Pudding Pops Recipe
1 box of banana cream instant pudding mix
2 cups of low-fat milk
1 banana sliced
Mix up the banana cream instant pudding in a bowl with the 2 cups of milk. I used a wire whisk and then stir in the sliced banana once mixture is starting to thicken. Pour into the ice pop molds and freeze for 3-4 hours.
*note* if you like your pudding pops really firm, cut the milk down to 1 3/4 cups.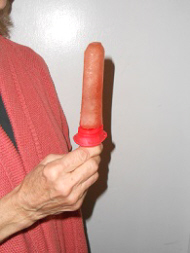 Strawberry Popsicles Recipe
1 cup freshly sliced strawberries
1 small box of strawberry flavored gelatin
3 cups of hot water
1 pint of vanilla ice cream, softened
Use a food processor or blender to chop up the fresh strawberries into very small pieces. Boil 3 cups of hot water and stir in a small box of strawberry flavored gelatin until dissolved. Then stir in the finely blended up fresh strawberries until well combined. Finally, stir in the pint of vanilla ice cream until all ingredients are well combined together. Pour into popsicle molds and freeze for 2-3 hours or until firm.
* This post contains affiliate links. If you make a purchase, we may or may not receive a small commission which helps to support this site. Thank you!