While I have a skincare routine that keeps my skin looking and feeling great, from time to time I do experience break outs. I have some problem areas like my chin and my forehead and have been looking for a product that will treat these areas without drying out my skin. I was recently introduced to two products that deliver just what I've been looking for. Vitabrid C¹²'s SPOT Powder and SPOT Essence deliver stabilized active Vitamin C deep into the skin for 12 continuous hours to target and treat all problems related to acne.
I've been using Vitabrid C12 SPOT Powder and Vitabrid C12 SPOT Essence for a few weeks and have seen a difference in my skin's appearance without any side effects. The powder and the specially formulated essence should be mixed together in the palm of your hand and applied to the face or to specific trouble spots. These powerhouse products help to control oil while hydrating the skin for a clean, healthy-looking complexion.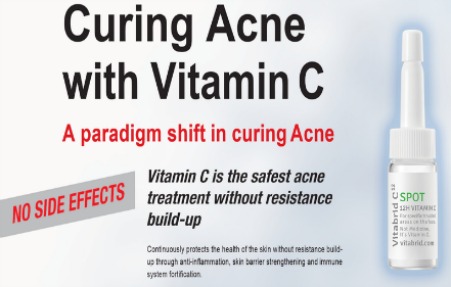 Both products contain Vitabrid CG, which delivers a proprietary new form of active and stabilized vitamin C deep into the skin to control sebum, the initial cause of acne, while also eliminating acne bacteria that cause inflammation. While typical acne medications chemically remove keratin from the skin's surface, Vitabrid CG breaks down the pore-clogging keratin (hardened sebum that blocks pores) and naturally eliminates it as waste.
I never realized the powerful healing power of Vitamin C for the skin. I load up on orange juice when I'm not feeling well and take a Vitamin C pill each day, so it makes a lot of sense that these Vitamin C based products are the safest acne treatment on the market. It continuously protects the health of the skin without resistance build-up through anti-inflammation, skin barrier strengthening and immune system fortification. Vitamin C is a strong, but safe antioxidant that rejuvenates the skin.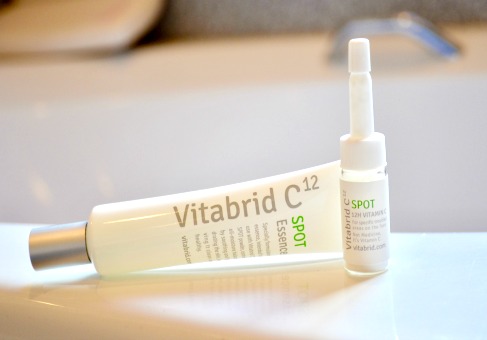 The best things about these products for of these products are:
• Safely solves acne problems with no side effects
• Stabilized active Vitamin C powder delivered deep into the skin for 12 continuous hours
• Eliminates acne bacteria and inflammation
• Cleanses keratin plugs
• Aids in pigmentation and damaged skin recovery
As I mentioned above, the company recommends that you mix an appropriate amount of the powder with the Vitabrid C12 Essence (or another products such as the Vitabrid C¹² SPOT Ampoule), in the palm of your hand. Apply the mixture to the troubled area. A dime-sized amount of the SPOT powder and Essence should be used if you need to treat the entire face
The Vitabrid C12 SPOT and Vitabrid C12 Essence are currently available exclusively at Barney's.

Disclaimer: Kristine has personally reviewed the product listed above. She has not received any monetary compensation for her review but did receive a free product to try out so she could evaluate and use it for her review. Her thoughts & opinions in this review are unbiased & honest and your opinions may differ.