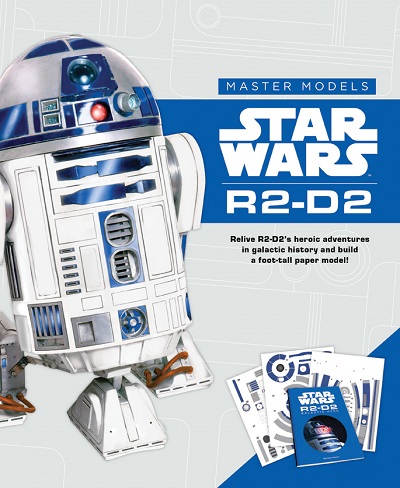 My husband is a huge Star Wars fan and collector. He's been collecting items related to the movie since the mid 1980's. He has seen all of the movies (at least 100 times) and owns over 2,000 items in his personal collection. When you walk into his man cave, that's all you see!
* Complimentary Item Received for Review.
For this review feature we received the Master Models Star Wars R2-D2 Paper Model Kit. As a big fan of the Star Wars genre, hubby was really excited to get this paper building kit into his hands.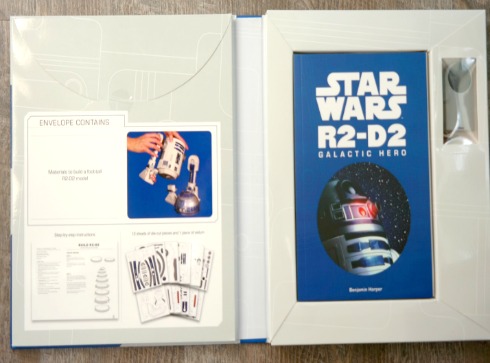 The kit includes:
* 48-page book on the adventures of R2-D2
* 12 Sheets of die-cut pieces with metallic ink printing
* push-button light and sound module with 3 authentic sounds
* detailed instruction booklet on how to construct the model
With the Star Wars Master Models: R2-D2 Kit you can give this little droid his due. Relive his many heroic adventures across the galaxy with the included book R2-D2: Galactic Hero and then build a highly-detailed papercraft model of everyone's favorite R2 unit, complete with lights and sound! Licensed by Disney and LucasFilm.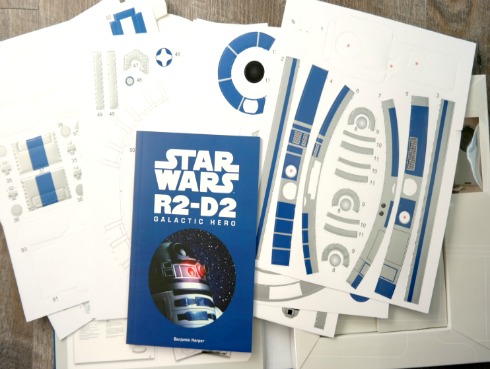 ISBN: 978-0-7603-5505-3
Approx. Build Time: 15-20 Hours
Ages: 14 years and up
The entire kit comes packaged in what looks-like an over-sized book. You open up the flap and inside you'll find the paper model pieces, instruction booklet and the paperback Star Wars R2-D2 Galactic Hero Book by Benjamin Harper.
My husband read through the instructions and then got busy popping out the paper pieces. He found it easier to pop out just the one's that he needed as he went along in building the model. He also opted to use a glue stick (the kind that's made for paper and for scrapbooking) as it really holds together the paper pieces nicely.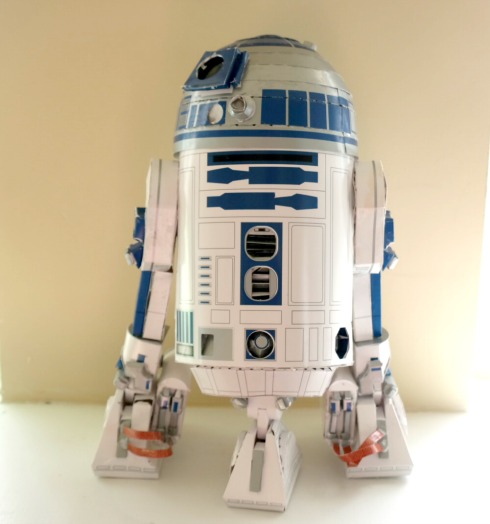 Overall, it took my husband about 2 1/2 weeks to fully build his new Star Wars R2-D2 Model and he's really happy with how it turned out! He will be displaying it on the bar down in his man cave in our basement. Fabulous project!
Looking to buy the Master Models Star Wars R2-D2 Paper Model Kit? Amazon currently has it for a really great price! This would make a great gift for any Star Wars fan or collector.
* This post contains affiliate links. If you make a purchase, we may or may not receive a small commission which helps to support this site. Thank you!

Disclaimer: Shelly received complimentary products to feature in this blog post. Shelly did not receive any monetary compensation. Shelly's thoughts, opinions and words are 100% her own unbiased opinion. Your thoughts may differ.