Tomatoes have always been known to be a great source of lycopene, the phytochemical overloaded with antioxidants. Research now shows that the already awesome fruit, can be even healthier by cooking it. Cooking tomatoes boosts its antioxidant power and Miami's own star chef, Adrianne Calvo has a ridiculously delicious recipe that will blow your socks off.
Great as a side dish to almost anything. Grilled chicken, whole fish, steak, etc. The recipe will make 4 servings. This is a guest-post recipe.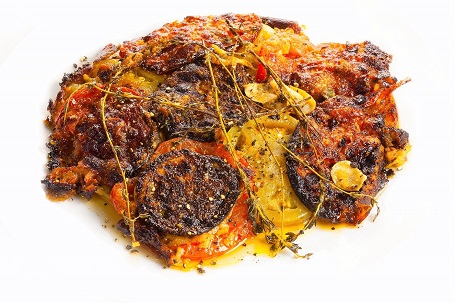 Roasted Red and Green Tomato Casserole Recipe
2 red tomatoes, thinly sliced
2 green tomatoes, thinly sliced
1/2 cup extra virgin olive oil
1/4 white balsamic vinegar
1/4 cup garlic, slivers
1 teaspoon dried oregano
1 tablespoon parmesan cheese, grated
1 small bunch thyme
kosher salt, to taste
1/8 teaspoon crushed red pepper flakes
Preheat the oven to 425 degrees F.
Pour olive oil in a casserole dish spreading evenly to coat it. Add garlic slivers, sprinkle with oregano, add the thyme, and add parmesan cheese. Then, press the slices of tomatoes onto the pan, arranging them evenly. Drizzle with balsamic vinegar. Season to taste with kosher salt and sprinkle with crushed red pepper. You can add more parmesan cheese if desired. Bake for 30-40 minutes or until tomatoes begin to brown and deepen in color. Allow to rest for 15 minutes before slicing.
* This post contains affiliate links. If you make a purchase, we may or may not receive a small commission which helps to support this site. Thank you!