How many of you enjoy eating Brussels Sprouts? We love them and make them a variety of different ways. One of the best things about them is that they're versatile and can be served with any of your main dish meats or fish. Today, I'm sharing with you one of my husband's favorite Brussels Sprouts Recipes and it's super-easy to make!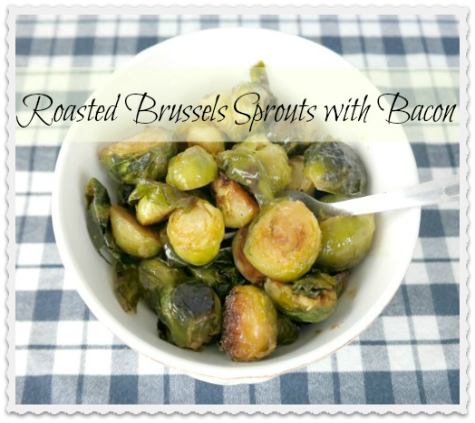 Roasted Brussels Sprouts with Bacon Recipe
1 1/2 lbs. fresh Brussels Sprouts
2 Tbsp. Extra-Virgin Olive Oil
1/2 tsp. Salt
1/4 to 1/2 tsp. Ground Black Pepper
6 Slices Bacon, Cut into Small Pieces
Preheat oven to 375 degrees F.
Wash and clean the brussels sprouts. Use a knife to slice each one into half. If any of the leaves fall off, you can toss them into the baking dish too.
In a large mix bowl, combine together the prepared brussels sprouts with the extra-virgin olive oil, salt and ground black pepper. I just use a spoon to gently toss all of them together.
Using a knife, cut the raw bacon into small pieces. I like to use 1″ to 2″ long pieces.
Pour the brussels sprouts into the baking dish. Use a spoon to even everything out. Arrange the bacon pieces on top.
Place baking dish into a 375 degree preheated oven. Bake for 15 minutes, stir everything up and then bake for an additional 10-15 minutes or until done. Remove from the oven and let sit in the baking dish for an additional 3-5 minutes before serving.
Variations: I will sometimes sprinkle shredded cheese on top during the last 1-2 minutes of the baking time. My daughter loves melted cheese on them, while my husband and I prefer them without. In addition, I will sometimes use my garlic flavored olive oil when we're in the mood for a different twist. YUM!
* This post contains affiliate links. If you make a purchase, we may or may not receive a small commission which helps to support this site. Thank you!