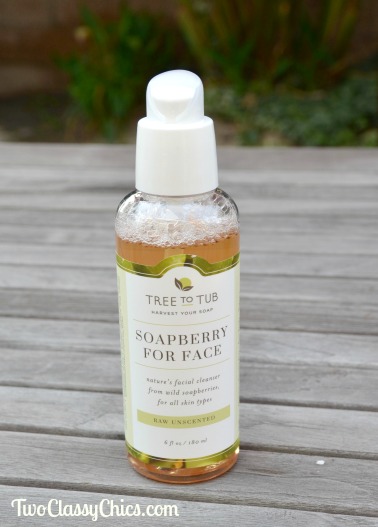 With a start of a new year, I typically make a resolution or two. Most of them, I don't keep (being honest), but the one that I want to keep this year for sure is to pay more attention to the types of products I'm using on my skin and my family's skin. With a son who has grown up with eczema to my bout with skin cancer, I am always in search for the most natural and healthy products to use.
* Complimentary Products Received for Review & Feature
I recently had the opportunity to try out a facial cleanser called Soapberry for Face from Tree to Tub, which is a company that has launched a vegan, eco-friendly, and fair trade line of products made with soapberries. Tree to Tub partners with local communities and eco-reserves in Taiwan to harvest the wild soapberry and bring this ancient tradition into our homes.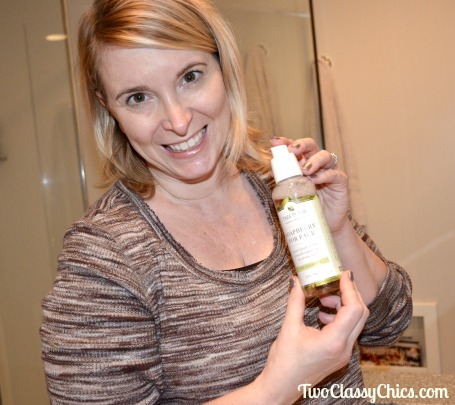 Soapberry for Face has been getting a lot of use in my home as I've been using it regularly as part of my daily beautification routine (aka washing my face and moisturizing) and my son's been using it as well. This soap is ideal for all skin types and is not only gentle, but also incredibly soothing. It is a raw, unscented cleanser that is made with fine organic botanicals such as the wild soapberry, aloe vera, shea butter, chamomile and acai berry. The soap makes my skin feel great and I love that it's free of toxins, perfumes and dyes.
In addition to the heap of healthy stuff above, this soap is also pH-balanced, hypoallergenic and is perfect for dry, itchy skin. It is dermatologist recommended for psoriasis, eczema, acne, dermatitis, rosacea and allergies. It lathers up nicely and is naturally anti-bacterial and anti-fungal, and leaves no oily residue, which I love. It makes your skin feel so clean and refreshed.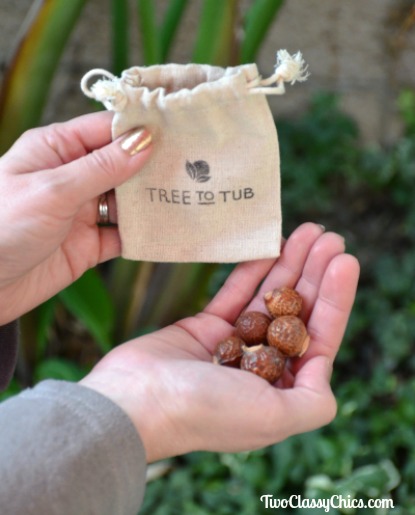 Tree to Tub has a full line of products that are available on its website, including the magical sundried soapberries themselves. They come in a drawstring muslin cloth bag packed and not only work as soap for your body, but also can be used as a pure organic laundry detergent. If you really want to go crazy, plant the seeds to grow your very own soapberry tree! I'm going to try it!
• To use the berries as a soap, they need to be rehydrated by placing them in boiling water for five minutes until they slightly soften. The berries are now ready to make a nourishing lather with just a little rub.
• To use as a laundry detergent, tie the bag closed and throw the bag into your laundry machine. The soapberries are also a natural fabric softener, and are good for five or more loads.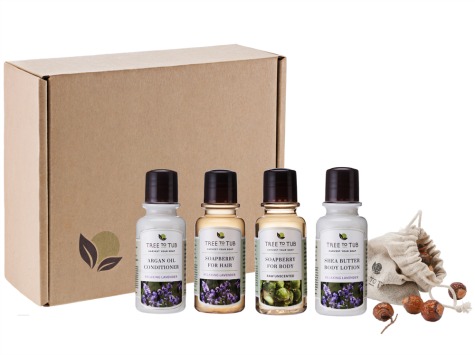 Reader's Discount: The kind folks at Tree to Tub are offering a special Reader's Exclusive Discount: Readers of the Two Classy Chics blog can get a travel kit for FREE, (but you'll have to pay the shipping charge for the kit). If you want to try out the products and order the FREE travel kit, please enter coupon code try4free during the checkout process. You'll be responsible for the $5.95 shipping charge for the kit.
Giveaway: One lucky winner is going to win a travel-size kit (shown above) from Tree to Tub! What a great way to try out some of their fantastic products!
* This post contains affiliate links. If you make a purchase, we may or may not receive a small commission which helps to support this site. Thank you!
Giveaway Details: This giveaway is open to US Residents age 18 or over. You must complete the Mandatory Entry to be eligible. This giveaway will close on February 2nd, 2018  at 11:59pm EST Time. No purchase required to enter or win. Please read our rules & guidelines before entering this giveaway.

Disclaimer: Kristine has personally reviewed the product listed above. She has not received any monetary compensation for her review but did receive a free product to try out so she could evaluate and use it for her review. Her thoughts & opinions in this review are unbiased & honest and your opinions may differ. Please read our official rules for giveaways before entering. Two Classy Chics is not responsible for shipment of this product.