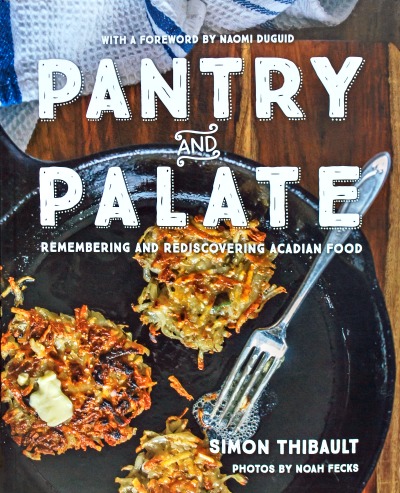 Having lived most of my adult life within sight of Acadia National Park in Maine, I'm familiar with the history of the Acadian people of the Maritimes and their relatives in Louisiana, the Cajuns. In his lovely new cookbook Pantry and Palate: Remembering and Rediscovering Acadian Food, Simon Thibault tells the story of his Acadian ancestors through the foods they harvested, prepared, preserved, and ate. It's fascinating, and I truly enjoyed reading this book.
Pantry and Palate is a cookbook in the broadest sense—it is a collection of recipes, but each recipe and many of the ingredients are discussed and described with respect to their history and use. And although the book is centered around food, it's also about people, because the food and the people (mainly women) who made it are inextricably linked. Because many of these people are the author's direct ancestors, the book comes through as a deeply personal food adventure.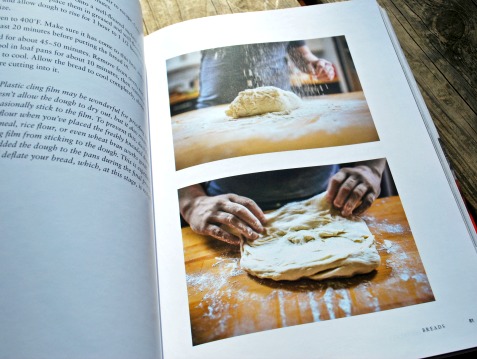 Simon Thibault is a lucky man in that he knows his family history, and his family history is part of the larger history of the Acadians of Nova Scotia. What makes him an extremely lucky man is that he has the handwritten recipe-filled notebooks of the cooks in his family. These precious heirlooms bring his grandmothers and other relatives right into his kitchen with him, guiding him through traditional Acadian recipes. "Guiding" is the operative word here, as many of the recipes in the notebooks are simply lists of ingredients with no accompanying instructions, and not all of the ingredient lists even include amounts. Thibault explains how he developed complete, modern recipes from the ones in the notebooks, making the journey to each recipe equally as interesting as the recipe itself.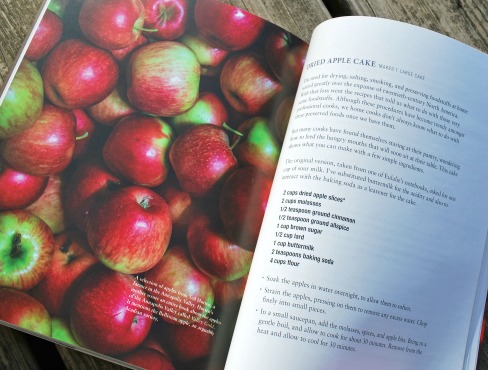 I know I'll never make certain recipes (Seaweed Pie, for example), but that doesn't hamper the enjoyment I get from reading them and imagining the cooks who have been making them for generations. The recipes I have marked to try include:
• Bran Bread, page 67
• Salted Green Onions, page 51
• Cranberry Pudding, page 193
• Scalloped Cabbage, page 155
• Chicken Fricot with Potato Dumplings, page 122
• Potato Pancakes, page 152
• Rhubarb Custard Pie, page 199
In particular, I'm looking forward to making the Salted Green Onions. It's a simple way of preserving fresh scallions with copious amounts of salt, in order to use the finished product to add a salty onion flavor to all sorts of dishes throughout the rest of the year. It sounds delicious to me!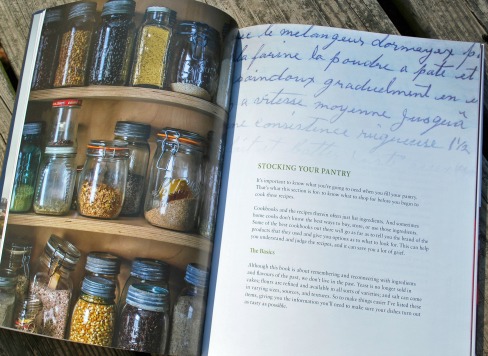 I found this book to be extremely moving. The author's description of his mother's hands and fingers making pie dough actually brought tears to my eyes. Similarly, I could almost feel the slickness and warm water on my own hands as Thibault described a sense-memory when washing his hands after rendering lard.
Last but not least, Noah Fecks' photography adds a beautiful visual layer to the narrative of Pantry and Palate, bridging past and present. Aside from the gorgeous pictures of food, the images of the hand-written recipes heading many of the pages give a real sense of the people behind the dishes.
* This post contains affiliate links. If you make a purchase, we may or may not receive a small commission which helps to support this site. Thank you!
Giveaway: One lucky winner is going to win a copy of Pantry and Palate thanks to Nimbus Publishing.
Giveaway Details: This giveaway is open to residents of the US ONLY age 18 and over. Please read our Terms of Service & Disclaimer Policy before entering. This giveaway will close on February 1st, 2018 at 11:59 pm EST time. No purchase necessary to enter or win.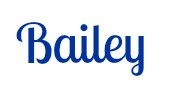 Disclaimer: A. Bailey received a complimentary product for review purposes & feature on The Classy Chics blog. No monetary compensation was received. A. Bailey's thoughts, opinions and words are 100% her own. Your thoughts may differ. Please read the blog's terms of service policy before entering any giveaways. The Classy Chics are NOT responsible for prize fulfillment or shipping of any items won from this blog.