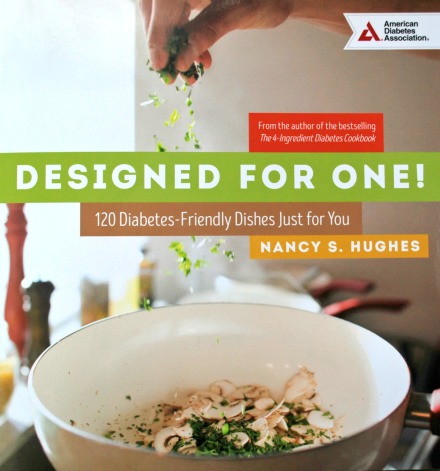 Cooking for one person can be a challenge, and if that person is diabetic, it can seem overwhelming. Fortunately, Nancy S. Hughes has collaborated with the American Diabetes Association (ADA) to help solve this dilemma with a new cookbook, "Designed for One!"
* Complimentary Item Received for Review.
Just about a year ago, I reviewed another Hughes/ADA cookbook, The 4-Ingredient Diabetes Cookbook. Having made several tasty recipes from that book, I knew that "Designed for One!" would be equally as enjoyable, especially since I do have to cook for myself alone when my husband is away on business trips.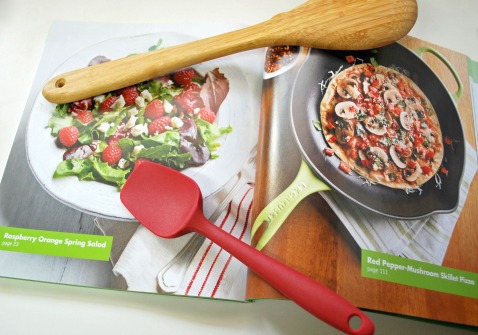 My usual plan for solo cooking is to utilize leftovers, but during my husband's last trip, I realized by the fourth consecutive night of leftover enchiladas that it was not ideal, or even appetizing. Leafing through "Designed for One!" showed me many options that are worth the effort and much more rewarding than reheated leftovers. With these recipes, I'll actually be looking forward to my solitary meals the next time I'm on my own! Here are a few recipes I've got marked for future reference:
• Gingered Carrot Salad
• Hot and Zingy Grape Tomatoes
• White Beans with Basil and Tomatoes
• Almond-Ginger Bulgur
• Red Pepper-Mushroom Skillet Pizza
• Chicken-Spinach Couscous
I've already made the Tender Almond "Baked" Apple recipe from the Extra-Easy Desserts section, and it was wonderful! I did make a couple of minor changes, peeling the apple and using a bowl rather than a plate. This simple treat was so good that I plan to double it to serve as a dessert when my husband is home.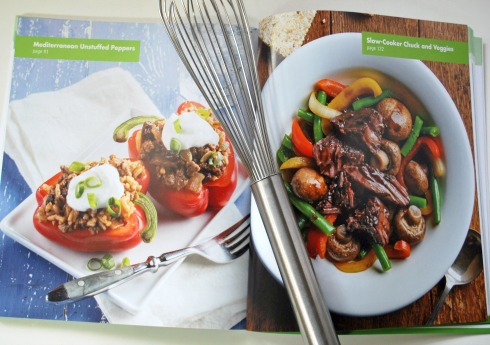 Because "Designed for One!" is written for diabetics, each recipe includes the "choices/exchanges" needed to track and conform to a diabetic meal plan. Similarly, some of the ingredients are different from their mainstream counterparts, such as light butter with canola oil rather than regular butter or margarine, and low-carb high-fiber flour tortillas in place of standard flour tortillas. Perhaps most helpful, however, is the "How To" section of the book, which includes hints and tips for smart shopping, produce storage, freezing and thawing foods, techniques for easy food prep, and more.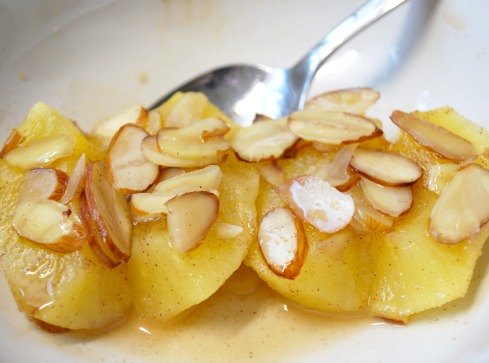 The book's subtitle, "120 Diabetes-Friendly Dishes Just for You," hints at the wealth of recipes in "Designed for One!" It starts with salads, ends with desserts, and includes everything you can imagine in between: Sides, meat and meatless main dishes, seafood, grains, and pasta. And don't think it's only for people with diabetes—the recipes are indeed geared toward diabetics, but their wholesome, single-serving simplicity will appeal to anyone.
The book is available for purchase at the ADA's online store. For more information about living with diabetes, visit the ADA's website or Facebook page.
* This post contains affiliate links. If you make a purchase, we may or may not receive a small commission which helps to support this site. Thank you!
Giveaway: One lucky winner is going to win a copy of the ADA's new cookbook, Designed for One!
Giveaway Details: This giveaway is open to residents of the US ONLY age 18 and over. Please read our Terms of Service & Disclaimer Policy before entering. This giveaway will close on January 26th, 2018 at 11:59 pm EST time. No purchase necessary to enter or win.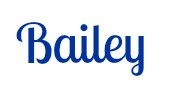 Disclaimer: A. Bailey received a complimentary product for review purposes & feature on The Classy Chics blog. No monetary compensation was received. A. Bailey's thoughts, opinions and words are 100% her own. Your thoughts may differ. Please read the blog's terms of service policy before entering any giveaways. The Classy Chics are NOT responsible for prize fulfillment or shipping of any items won from this blog.