At my home I make some type of chicken dish for dinner about 3 times a week. Chicken is typically easy to prepare and it's one of the most affordable meats at the grocery store, especially when I purchase it on sale. We do get bored with the same old, same old recipes, so I'm always looking for easy-to-prepare recipes online.
Today's guest post recipe is courtesy of THE COCOA EXCHANGE and only requires 5 ingredients to make it.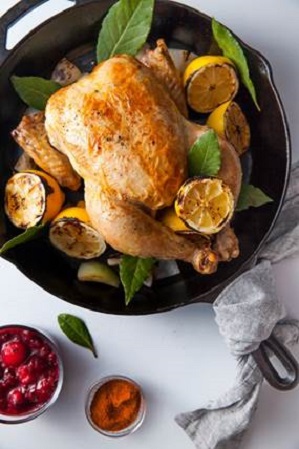 Moroccan Brined Chicken Recipe
1 gallon water
3/4 cup kosher salt
1/4 cup granulated sugar
3 Tbsp. Pod & Bean™ Moroccan Seasoning Blend
1 whole chicken, about 4 pounds, giblets and excess fat removed
In a large pot, combine the first four ingredients. Stir well to dissolve the sugar and salt.
Submerge the chicken in the brine, breast side down, and refrigerate for 6 to 12 hours.
Preheat oven to 350° F. Remove the chicken from the pot and discard the brine. Pat the chicken dry with paper towels.
Place chicken in a roasting pan and cook uncovered for 60-90 minutes until the surface is deep golden brown and the internal temperature reaches 160° to 165°F in the thickest part of the thigh (not touching the bone).
* This post contains affiliate links. If you make a purchase, we may or may not receive a small commission which helps to support this site. Thank you!