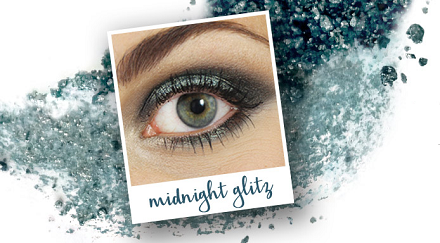 Created by Global Corporate Educator, Ami Mallon, I am excited to share Osmosis Colour Mineral Cosmetics' "Midnight Glitz" makeup tutorial. Featuring a perfectly contoured complexion and a smokey sparkle, please find the step-by-step guide below.
Step 1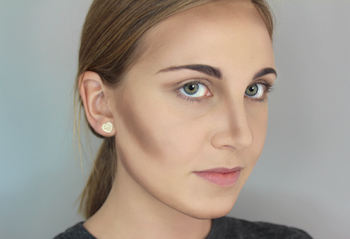 Using the Angled Blush Brush and the contour shade from the Lustrous Contour Duo, create a thin line from the center of the ear under the cheekbone down to the middle of the brow. Use the same shade to trace under the jawline and blend down to your neck. Then, bring this same shade from the temple across the forehead and blend.
Step 2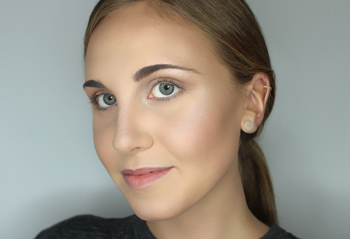 With the Medium Accent Brush and the highlighting shade from the Lustrous Contour Duo, lightly sweep the high points of your face such as the tops of your cheekbones, bridge of your nose, under the brow bone, and the cupid's bow to accent your best features.
Step 3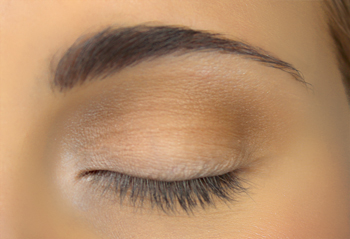 Prep the eyes by blending a small amount of the Age Defying Treatment Concealer with the Concealer Brush. Using the Blender Brush, sweep the darker shade from the Lustrous Contour Duo into your crease to create definition.
Step 4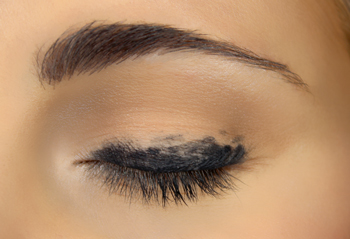 Apply the Black Eye Pencil on your lid from lash line to crease. Don't worry about precision in this step, we'll be blending it in the next!
Step 5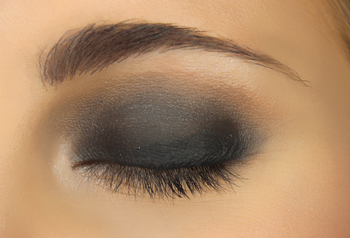 Blend the Black Eye Pencil using the Contour Shadow Brush. TIP: Our Eye Pencils are long-wear and will set quickly, so get to blending as soon as you can!
Step 6
Then, apply Black Eye Pencil to your lower lash line and blend under your eye using the smudge brush at the end of the Eye Pencil for a natural smokey look.
Step 7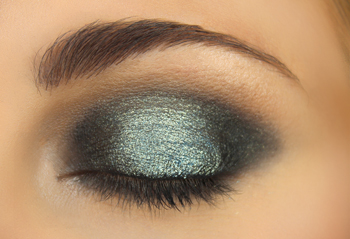 Using your finger or our Smudge Brush, dab Azure Water Color onto the center of your lid and blend into your crease and outwards.
Step 8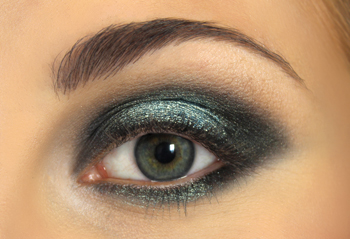 Take the same Smudge Brush and apply a small amount of Azure Water Color to the center of the lower lash line to make the eye look larger.
Step 9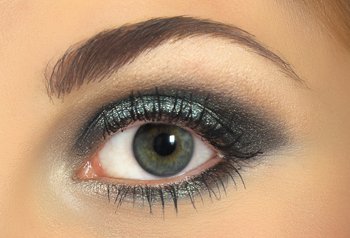 With your finger or a clean Smudge Brush, dab a small amount of Opal Water Color in your tear duct area as well as under your brow to brighten and highlight! Then, apply several coats of the Volumizing Mascara to complete the eye look.
Step 10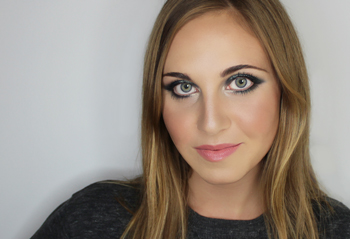 Pair with your favorite lip and cheek! We went with a soft, pink lippie using our First Kiss Lipstick topped with Flirt Lip Glaze and added a pop of color to the cheeks with one of our favorite blushes, Pink Pearl.
All of the make-up products used in the tutorial are from Osmosis Colour Mineral Cosmetics and are currently available in their online store. You can connect with the company and chat with fans over on the company's Facebook page.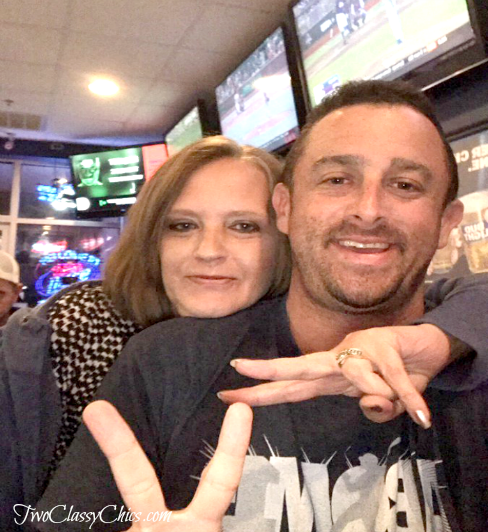 I've been using several different make-up products from Osmosis Colour Mineral Cosmetics for the past 2 years. I've got extremely sensitive skin and I found that their cosmetics are perfect for me. My skin never get's irritated and my make-up always looks appropriate and finished.
I tried out the products in this tutorial and love them all. With that said, I'm 50 year's old and I didn't put the eye make-up on as heavy as they do in the tutorial as I felt it was a bit too much for me, but would be totally appropriate on a younger woman. Just my 2 cents on that.
The Osmosis Colour Volumizing Mascara is truly the BEST mascara that I've ever used. It doesn't clump, flake or irritate your eyes. I apply one coat for my daytime look and two coats when I'm going out at night. The Osmosis Colour Eye Pencil in Black is super easy to use. I like to apply it to my upper and lower lids and it just glides-on during the application process. No tugging at all.
One of the things that really surprised me is how much I LOVE the Osmosis Colour Water Color High Intensity Loose Shadow. I received 2 of them in the following colors: Opal and Azure. The colors are beautiful! I like to apply them onto my lids using a brush, but you could certainly use your fingers. A little bit of the shadow goes a long way and it lasts all day long!
* This post contains affiliate links. If you make a purchase, we may or may not receive a small commission which helps to support this site. Thank you!

Disclaimer: Shelly received complimentary products to feature in this blog post. Shelly did not receive any monetary compensation. Shelly's thoughts, opinions and words are 100% her own unbiased opinion. Your thoughts may differ.