How many of you dread those heavy vacuums when it comes to cleaning your home? I know I do! As someone who suffers with chronic pain and has had a hip replacement, I can't drag heavy vacuum all over my home, nor up and down the stairs any more.
Back in early December I went on the hunt for a "lighter" weight upright vacuum and tried out three different type's before I finally settled on the Bissell 1822 Cleanview Plus Upright Bagless Vacuum. If you're looking for a new vacuum cleaner that is light-weight, powerful and affordable, read on!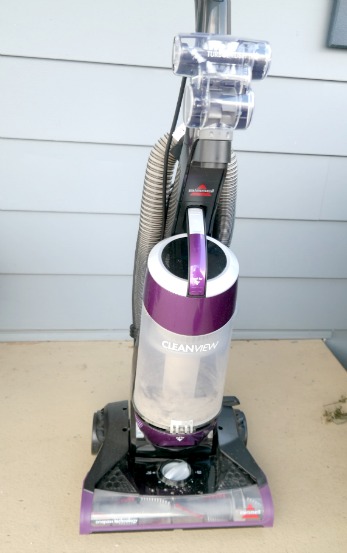 Before I get started, I want to state that I personally purchased the product that I'm talking about today. I paid full price for it. This feature is NOT being sponsored by any company or brand. Just sharing my personal opinion with my readers. This post does contain affiliate links.
My previous vacuum is one of those expensive, multi-hundred dollars brands and let me tell you, it weighed a whopping 21 lbs. My new one by Bissell weighs in at only 15 lbs. and being 6 lbs. lighter, it makes a HUGE difference!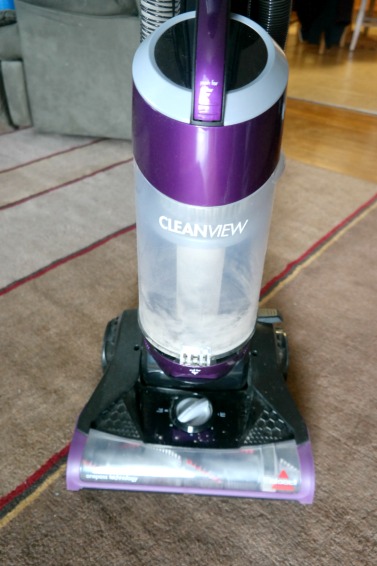 Product Features:
30 ft. electrical cord
6 ft. long hose
Bagless with 2.0 liter capacity canister
OnePass Technology
Washable & reusable filter
Includes:  TurboBrush Tool, Dusting Brush, Crevice Tool and Extension Wand
3 year limited warranty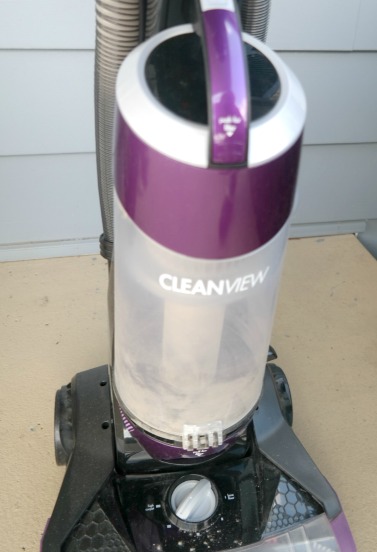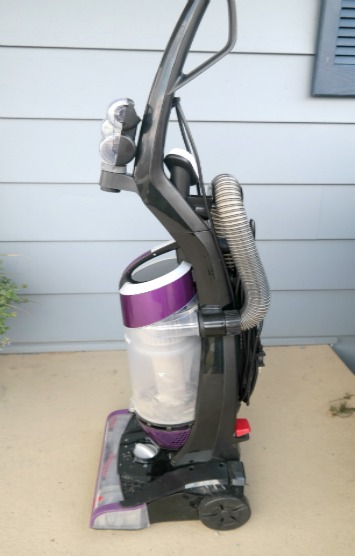 In our home we have multiple different type's of flooring. For example: wall-to-wall carpeting, large area rugs, small rugs, ceramic tile, hardwood flooring, etc. This one vacuum will clean all of those surfaces and you won't have to switch out to any tools, at least I don't! I just change the height dial on the front of the vacuum as I go from surface to surface.
Throughout the past 6 weeks, I've used it to clean-up lint, debris, rock salt, sand, cookie sprinkles, glass slivers, kitty litter, etc. It has picked up everything with ease and almost always on one pass! Once I'm done, I unhook the clear canister…take it over to my garbage can, empty it, reattach it and I'm ready to do more cleaning. Yes, it's really that easy!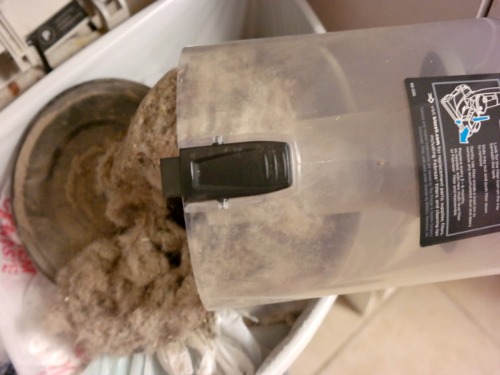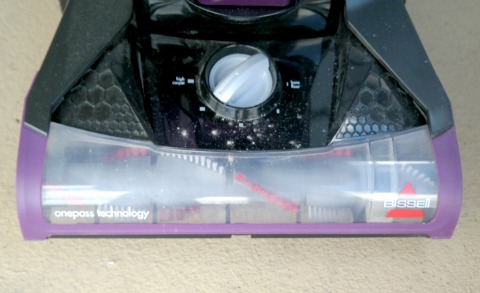 My very expensive name brand vacuum cleaned up things easily too, but…it was extremely heavy to lug around. On top of that, it was loud & noisy. While my new one makes noise, it's only about half as loud as my other one. That's fabulous, considering I often have grandchildren here who are napping and I don't want to disturb them.
I'm not going to mention the brand name of my other vac, but I will tell you that my other one cost me $387.00 (on sale) a year ago. My new Bissell 1822 Cleanview Plus Upright Bagless Vacuum cost me less than $100.00 and I think it performs just as well, if not better. Plus, it's lighter in weight, isn't as loud and you gotta love that price point. In my honest opinion, I would definitely by this Bissell vacuum again!!!
So, where did I get it? I purchased it from Amazon. You can go right over to Amazon to learn more about it and make sure you read the reviews over there too! If you're looking for a powerful vacuum that costs less than $100.00, I think you'll be very pleased with this particular model and brand.
* This post contains affiliate links. If you make a purchase, we may or may not receive a small commission which helps to support this site. Thank you!
Disclosure: Shelly personally purchased the item she's featuring today and she paid full price for it. This post is NOT being sponsored by any company or brand. Shelly is sharing her 100% honest opinion about the item as a courtesy to her readers on the blog. This post does contain affiliate links.