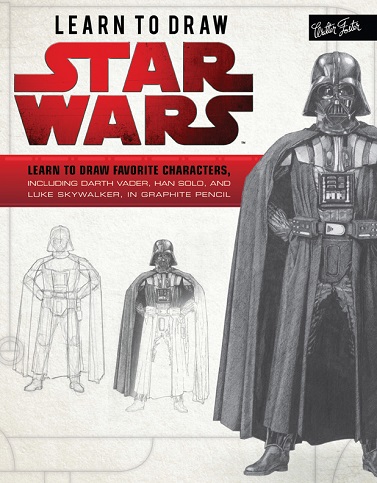 My husband is a huge Star Wars fan and collector. He's been collecting items related to the movie since the mid 1980's. He has seen all of the movies (at least 100 times) and owns over 2,000 items in his personal collection. When you walk into his man cave, that's all you see!
* Complimentary Item Received for Review.
For this review feature we received the Learn to Draw Star Wars Book by Russell Walks to check out for all of you. Here's some information about it.
Title: Learn to Draw Star Wars
By: Russell Walks
Publisher: Walter Foster Publishing
ISBN: 781633222588
Genre: Art, Technology, Drawing
Pages: 128 pages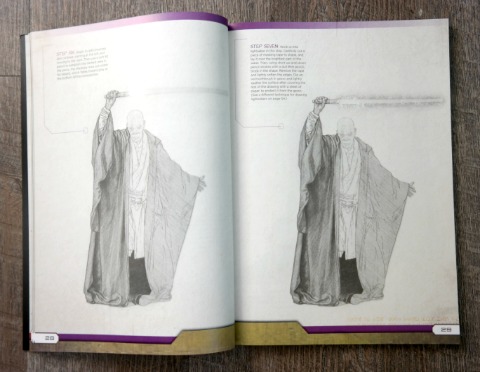 Book Synopsis: A long time ago in a galaxy far, far away, Star Wars premiered in theaters, allowing audiences to share epic adventures with the unforgettable characters of this timeless series. With graphite drawings by Lucasfilm collaborator Russell Walks, Learn to Draw Star Wars shows aspiring artists how to render classic characters in stunning, realistic detail. Step-by-step projects elegantly re-create household names, including Luke Skywalker, Han Solo, and Darth Vader. Including nostalgic quotes, descriptions, and helpful drawing tips for each character, Learn to Draw Star Wars allows readers to develop and strengthen their drawing skills, while experiencing this legendary series in a whole new light.
Our Thoughts: My husband has no artistic talent at all and he's the first one to admit that. He can build houses and do all kinds of things like that, but when it comes to arts & crafts…no talent at all. With that said, when he saw this title on the publisher's list that I received, he begged me to get it for him. He loves anything and everything to do with Star Wars and with winter weather settling in, he thought this would be a good artistic hobby to keep him busy, while being cooped up inside.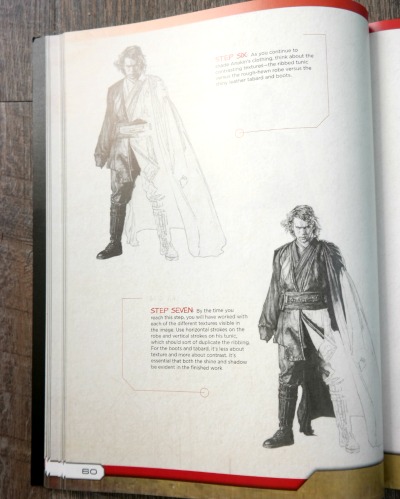 What's really nice about this instruction book is that the artist/author takes you through each drawing, step-by-step. There are diagrams and examples of each character in progress, from step number 1 until the character has been completed. All instructions are spelled out in a way that even a newbie can understand them and master the technique.
There are 3 chapters in the front of the book to get you started: Tools & Materials, Basic Pencil Techniques, and Textures. Then all of the Star Wars character drawing instructions follow. There are instructions for each of these characters:
Obi-Wan Kenobi, Yoda, Mace Windu, Padme Amidala, C-3PO, Darth Maul, Anakin Skywalker, Darth Vader, Stormtrooper, Princess Leia, Luke Skywalker, Han Solo, Chewbacca, Boba Fett, and Jabba the Hutt.
What a great book! Hubby has been practicing for the past 8-9 days just using a regular pencil and some scrap paper. This coming weekend we'll be heading out to our local craft supply store to pick up an official sketch pad and graphite pencils. He's really excited to start working on his first official piece from the Learn to Draw Star Wars Book. Looking to buy? You can find it on Amazon for a really great price!
* This post contains affiliate links. If you make a purchase, we may or may not receive a small commission which helps to support this site. Thank you!

Disclaimer: Shelly received complimentary products to feature in this blog post. Shelly did not receive any monetary compensation. Shelly's thoughts, opinions and words are 100% her own unbiased opinion. Your thoughts may differ.