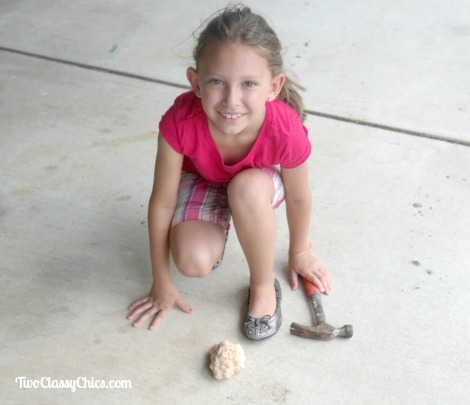 Today's crafting with kids feature is something just a little bit different. I think that any time we can teach our children fun science things and make it fun…well, that's a good thing!
My 8 1/2 year old granddaughter loves rocks, minerals and seashells. She's started collecting them about 3 years ago. She keeps her collection nicely labeled and organized in plastic divided boxes that we pick up at our local craft supply store. It's a great hobby for little boys and little girls.
Recently I added to her collection by picking up a pack of geodes over on Amazon. It's one of the most affordable places to buy them in multiple packs. Once we get the pack home…we spend time on the internet looking up facts about rocks, minerals and geodes.
For example: Geodes are a rock formation and once they're busted open you'll find the cavity lined with crystals. The majority of the time she finds clear quartz crystals in her geodes, but there have been a few times where she has found pale pink, pale yellow and one has pale green quartz crystals inside. You don't know what you'll find until your child breaks them open!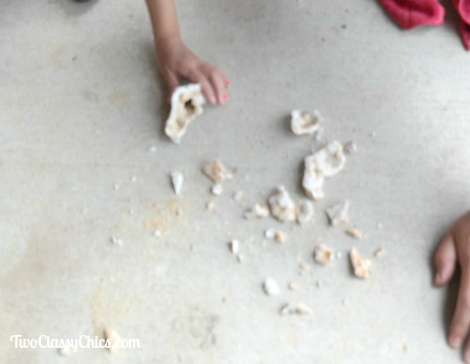 When it comes to breaking them open, I recommend that you use an old sock and a hammer. We place it inside the sock and then the Princess uses the hammer to smash it open. Sometimes it takes a few swings before it will break. She then dumps the contents inside the sock onto one of my old baking sheets, so she can sift through the pieces.
She keeps the larger chunks and adds them to her rock and mineral collection box. The crumbs she discards into one of my old flower beds. They can be sharp if stepped on, so make sure you clean up the crumbs and small shards.
I think this is a fun little project for kids and a great way to teach them about rocks and minerals. Just remember, it's not all about the fun! Make them get onto the internet or take them to your local library and let them look up information about them. Princess likes to write down some fun facts onto note cards, which she files away in her collection box.
Geode Kits make a great birthday gift or holiday gift. If you home school, pick up a pack of geodes and let your kids do some scientific exploration with them. They're fun, educational and affordable!
* This post contains affiliate links. If you make a purchase, we may or may not receive a small commission which helps to support this site. We personally purchased the item featured in this post and we paid full price! Thank you!