Winter has finally sunk in around here and we've been spending a lot more time indoors. I've been trying to keep my 8 1/2 year old granddaughter busy with some easy and affordable craft projects, which she loves to do.
On a recent trip to my local craft supply store I found some goodies on sale and picked them up for her to complete. Not only is this project affordable, but once the suncatchers are done, they'll look beautiful hanging up inside your windows! You can also use them as package toppers, gift bag add-ons, as holiday ornaments, etc.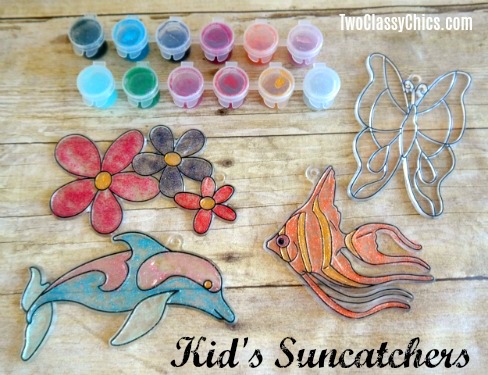 Kid's Craft Project – Easy and Affordable Suncatchers
1 pkg. multi-color glitter acrylic paint pots
plastic suncatcher shapes
1 paint brush and water dish
newspaper and paper towels
At our local craft store we found the two strips of glitter acrylic paint pots on sale for $1.99. They didn't come with a paint brush, but that's okay since I had some of those at home. The clear plastic suncatcher shapes were on sale 2 for $1.00. We picked up 6 of them for $3.00. So, I spent $5.00 for the supplies.
When children are painting, you always want to lay down some newspaper to protect your work surface. We found it best to apply two coats of the glitter acrylic paint to really get the different colors to "POP". When painting, the kids need to be generous with the amount of paint that they're using to fill up the little "cavity" in the suncatcher with the different colors.
Once done…they need to let them lay flat for a few hours until they're totally dry. If you get little air bubbles in the drying paint, you can pop them with the tip of a toothpick. We had one or two air bubbles form and that's how we dealt with them.
Each of the suncatchers has a hanging hole. We did use some clear fishing line and made hanging loops on each one, so that we could hang them from suction cups on the windows. They look adorable when the sunshine comes streaming through the windows and kids will be proud of their new handmade creations!
* This post contains affiliate links. If you make a purchase, we may or may not receive a small commission which helps to support this site. Thank you!