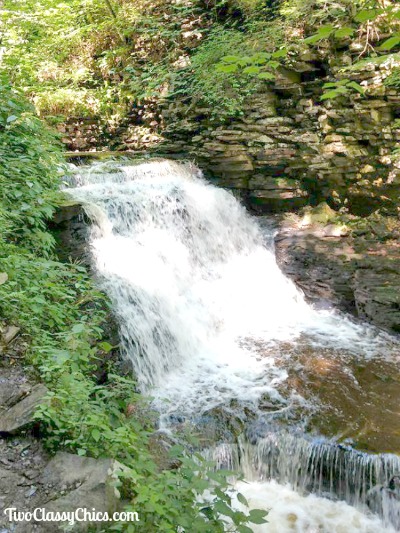 Ricketts Glen State Park is located in the beautiful state of Pennsylvania. It's one of the best-known parks in the entire state. One reason that millions of people have flocked to this state park over the years is because of the 24 named waterfalls located within the park. In addition to those 24, there are several un-named ones too!
The park is open year round to visitors. During the summer season you'll find hunting, swimming, hiking, camping, picnic grounds, rock climbing, fishing and more! During the winter season you'll find ice fishing, ice rock climbing, some hiking, cross-country skiing and other cold-season activities.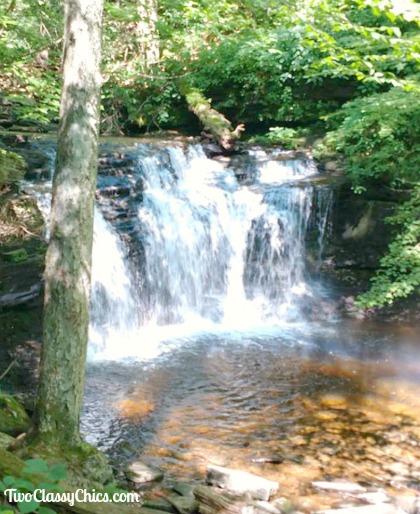 When I was a teenager we spent a few days camping at Ricketts Glen State Park and hiking on some of the trails. My husband had never been there. So, a few months ago we spent a weekend up at the park camping and hiking on several of their trails. Some of the trails are easy walks (hikes), but others are for more experienced hikers who are in great physical and medical shape.
The park has changed a great deal since I last had been there (early 1980's) and it has changed for the better. There are definitely more activities available for visitors to enjoy. The weekend that we were there it was extremely hot! On one day it was 84 degrees and on the second day it was 90 degrees. We limited our hiking & walking due to the heat, but are glad we did get out there and explore.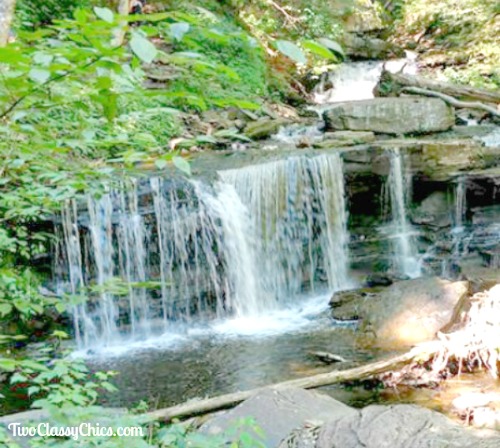 As part of our weekly travel series & feature here on Two Classy Chics blog, I wanted to share a few photographs with all of you that we took of a couple of the waterfalls that we saw during our trip. I believe we saw a total of 9 of them, if I'm not mistaken. The one was around 90 foot tall and was really beautiful to see!
If you ever get the opportunity to visit Ricketts Glen State Park in Pennsylvania, we highly recommend it! It's one of those parks that should be on every traveler's bucket list. Have any of you ever been there before?
* This post contains affiliate links. If you make a purchase, we may or may not receive a small commission which helps to support this site. Thank you!