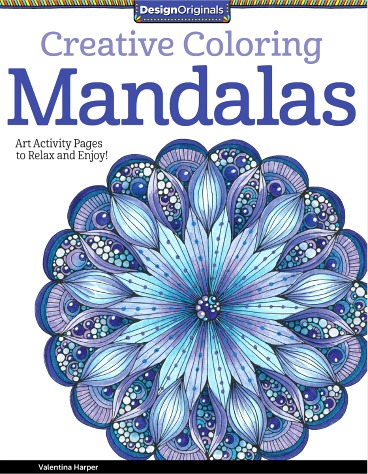 Three and a half years ago, I jumped on the adult coloring book bandwagon and haven't looked back. I enjoy sitting down in the evening while watching TV and coloring. It helps me to relax and unwind after a long day. Not only is it relaxing, it's a great way to explore my creativity at the same time.
* This coloring book was personally purchased by Shelly. See disclosure at the bottom of this feature.
One of my favorite adult coloring books is one called Design Originals Creative Coloring Mandalas – Art Activity Pages to Relax and Enjoy! by Valentina Harper. Each book contains 30 relaxing and creative Mandala illustrations for you to color-in and enjoy. I've purchased MANY Mandalas coloring books over the past 4 years and this one is one of my favorites!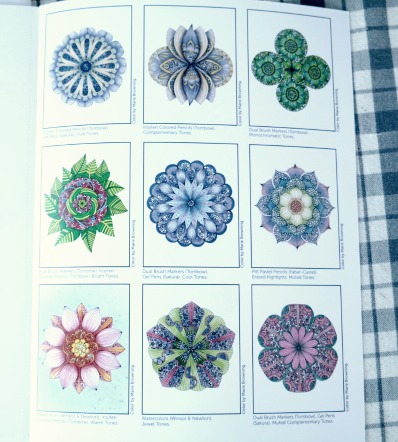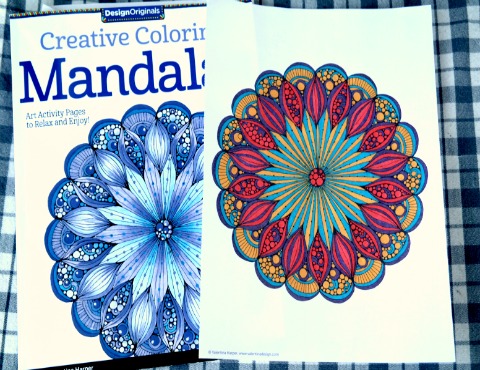 Each page has a perforated edge, so you can easily remove them from the book. The author Valentina, provides easy-to-follow tips on how to color in her designs. You can follow her leads or come up with your own color schemes. As an added bonus, best-selling craft author Marie Browning joins in with gorgeous coloring examples that you can follow.
The designs in this book are semi-intricate and just beautiful. I really appreciate that they're printed on high-quality paper that won't bleed through, since I prefer to use my glitter gel ink pens when coloring. You can use regular markers, colored pencils, watercolors, crayons or whatever it is that you prefer to use.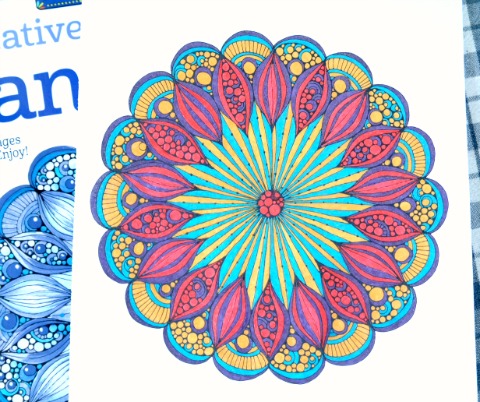 If you like my colored-in example, I used glitter gel ink pens. You can read my previous feature on my FAVORITE gel ink pens to learn more about them. I admit, glitter pens are my favorite coloring medium! The colors are bright and vibrant, and the ink just glides across the page. They come out beautiful enough for you to frame & hang on your walls as displayed artwork!
* This post contains affiliate links. If you make a purchase, we may or may not receive a small commission which helps to support this site. Thank you!
You can find the Creative Coloring Mandalas Book on Amazon for a really great price and I've seen the book at various craft stores across the nation too! If you enjoy adult coloring, specifically when it comes to coloring-in Mandalas, I highly recommend this particular book!

Disclosure: This post contains affiliate links. Shelly personally purchased the book that she's featuring today and she paid full price for it. This feature is NOT being sponsored by any particular company or brand.