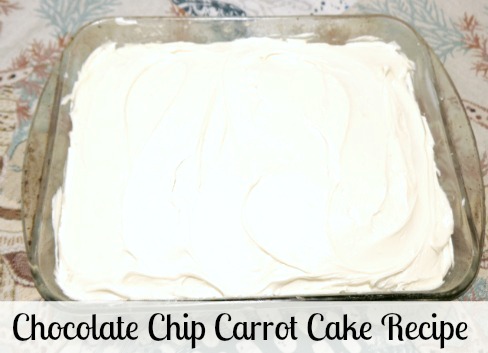 Thirty years ago my grandmother gave me her recipe for a good homemade Chocolate Chip Carrot Cake and I've been making this cake ever since. I typically make it 3-4 times a year, especially when I have freshly harvested carrots from my garden. Once it has been made, you can frost it with cream cheese frosting (my personal favorite) or with vanilla frosting, if that's what you prefer.
Sometimes if I have some nuts on hand (any kind), I'll chop them up and toss in a 1/4 cup of finely chopped nuts into the batter too. That's entirely up to you if you want to add them. If you're looking for an "easier" recipe to make a carrot cake, you can check out my mom's cheater recipe that we published last week.
Chocolate Chip Carrot Cake Recipe
1 cup granulated sugar
3/4 cup vegetable oil
2 large eggs
1 1/4 cups all-purpose flour
1 teaspoon ground cinnamon
1/2 teaspoon table salt
1 cup finely shredded carrots
1/2 cup semi-sweet chocolate chips
frosting of your choice: vanilla or cream cheese
Preheat your oven to 350 degrees. Lightly grease and flour a 13 x 9″ glass baking dish. In a large mixing bowl, combine together the granulated sugar, vegetable oil and eggs with your electric mixer set on medium. (about 2 minutes). Stir in the all-purpose flour, ground cinnamon, baking soda and table salt until the batter is well combined. Stir in the shredded carrots and semi-sweet chocolate chips.
Pour the batter into your baking dish and bake in a 350 degree oven for 30 to 40 minutes or until the cake tests done. Remove from the oven and let cake cool and then frost with vanilla or cream cheese frosting.
* This post contains affiliate links. If you make a purchase, we may or may not receive a small commission which helps to support this site. Thank you!