How many of you enjoy eating snap peas? I do! I can typically find fresh snap peas at our local farmer's market year-round. Typically when I make them, I steam them with a little bit of seasonings. Today's guest post recipe by The Cocoa Exchange has you baking them and it looks really easy to make. Plus, you gotta love that you ONLY need 5 ingredients to make this recipe. I think they would be great served alongside a pork roast, beef roast or even a roasted whole chicken. Yummy!
Do you enjoy them? If so, what's your favorite way to prepare them?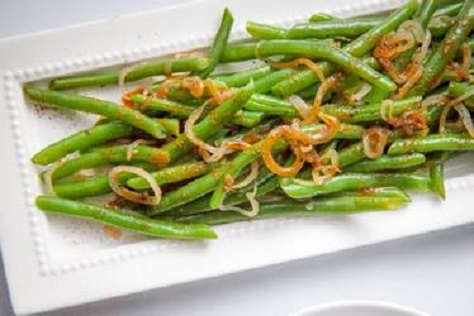 Baked Sugar Snap Peas Recipe
1 lb. sugar snap peas
2 Tbsp. shallots, chopped
2 garlic cloves, minced
1 Tbsp. olive oil
1 Tbsp. Pod & Bean™ Caribbean Seasoning Blend
Preheat oven to 400° F.
Chop shallots and mince garlic cloves. Combine all ingredients and layer on a baking sheet. Bake for 8-10 minutes or until crisp and tender. Remove and serve immediately.
* This post contains affiliate links. If you make a purchase, we may or may not receive a small commission which helps to support this site. Thank you!