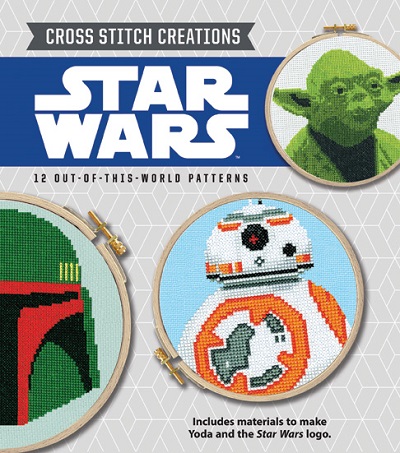 My husband is a huge Star Wars fan and collector. He's been collecting items related to the movie since the mid 1980's. He has seen all of the movies (at least 100 times) and owns over 2,000 items in his personal collection. When you walk into his man cave, that's all you see!
* Complimentary Item Received for Review.
For this review I received the Star Wars Cross Stitch Creations Pattern Book and Starter Kit. It includes materials to make Yoda and the Star Wars Logo, with patterns to make 12 different items/designs. You can easily pick up supplies to make the designs at your local craft supply store.
This kit includes:
48-page step-by-step instruction book with color photos
12 patterns
2 pieces of cross stitch fabric
7 skeins of embroidery thread
six-inch diameter hoop
embroidery needle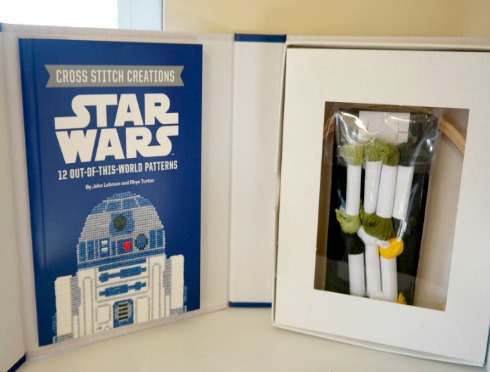 Organized by skill level from Padawan to Jedi Master, there are projects to satisfy novice and experienced stitchers alike. Patterns include popular Star Wars characters like R2-D2, Stormtroopers, Darth Vadar, BB-8 and more! Once you stitch up the designs, you can turn them into all kinds of fun things such as: throw pillows, tote bags, hats, etc. Fun stuff!
I've been cross-stitching for over 30+ years and it's a skill that my grandmother taught to me when I was a teenager. I went through the entire kit and book…anyone can do this! Yes, I'm experience, but I'm being honest with you….If you want to learn cross-stitch, you can learn with this kit!
I'm heading for major surgery next month and guess what I'll be doing while I recover? You bet, I'll be stitching up several of these Star Wars designs and turning them into fun things for my husband's collection. Matter of fact, I'll update this post next month to show you something that I've made.
Looking to buy? You can find the Star Wars Cross Stitch Creations Book and Kit over on Amazon for a really great price!

Disclaimer: Shelly received complimentary products to feature in this blog post. Shelly did not receive any monetary compensation. Shelly's thoughts, opinions and words are 100% her own unbiased opinion. Your thoughts may differ.