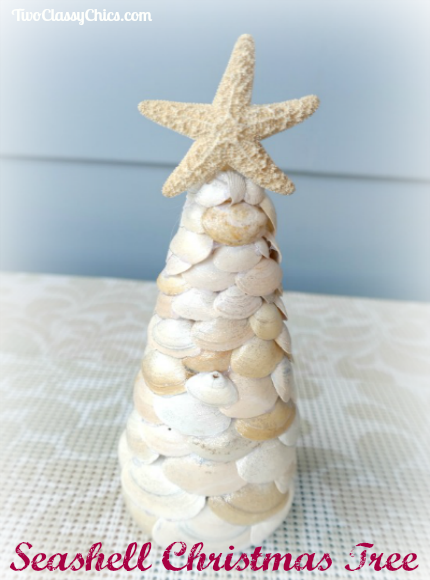 If you've been following this blog over the past 8 years, you'll already know that I'm a total beach nut and coastal home decor lover. We often visit beach destinations and every time we're at the beach…I go for beach walks and collect seashells that I find. Over the years I've collected about 8 large boxes full of seashells and use them in a variety of my crafting and home decorating projects.
These Seashells and Starfish Christmas Trees are really easy-to-make. With that said, each one will take you about 2 days to complete. You can use shells that you've personally collected (like we did), or go to your local craft store and purchase them.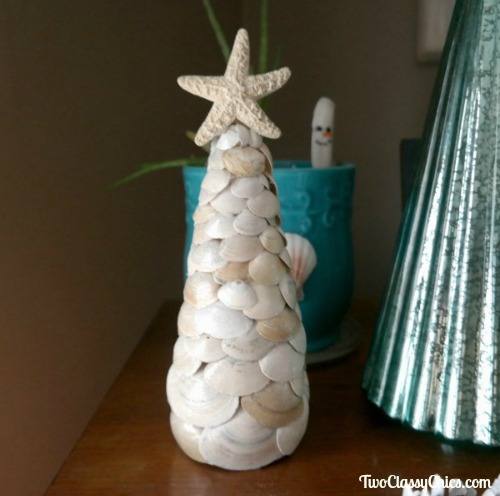 Seashells and Starfish Christmas Tree Craft Project
1 Cardboard, Paper Mache Cone or Styrofoam Cone
Clam Shells or Seashells
1 Starfish
Hot Glue Gun and Glue Sticks
1 Wooden Dowel 1/8″ to 1/4″ Diameter
Clear Acrylic Spray with Fine Silver Glitter
Aluminum Foil (1 foot to 2 feet in length)
Notes: For this particular tree we used clam shells and they range in various sizes. The bottom portion we used 2″ wide sized clam shells and as we worked up the tree with the gluing process, we then switched over to smaller ones. Make sure you collect and use a variety of different sizes with the larger ones being placed on the bottom and the tiny ones up at the top. This will keep the cone-shape in correct proportions once finished.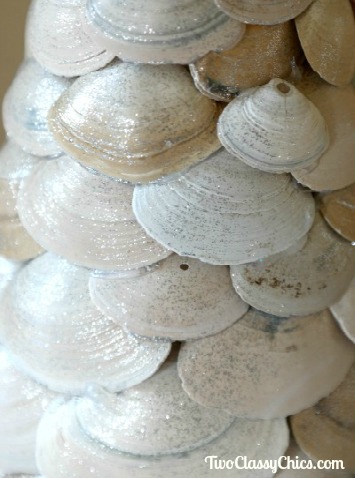 If you're using cardboard cones you can use a hot glue gun with hot glue sticks. If you're using styrofoam cones, you'll want to use the cool-melt glue, so that you don't melt the styrofoam with hot glue.
To get started…take your aluminum foil and seashells outside. Lay them in a single layer on top of the aluminum foil. Use the clear acrylic spray sealer with fine silver glitter and lightly spray them with one coat. Let dry for several hours. I use aluminum foil (the cheap stuff from the Dollar Store), as the sprayed seashells won't stick to it. Once done, just crumble it up and toss it away.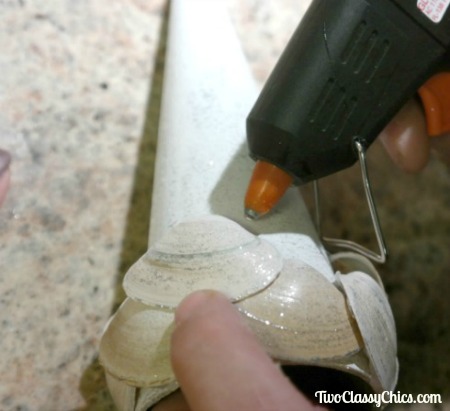 I used cardboard cones for my Christmas trees. You'll want to start at the bottom of your cone and work your way around the cone in rows and from bottom to top. Glue the larger sized shells around the bottom, the medium sized ones through the middle and the smaller sized ones around the top. Try to cover every nook and cranny. Since I used clam shells, I found it best to have them all going and laying in the same direction. You'll want to be generous with the amount of glue that you're using.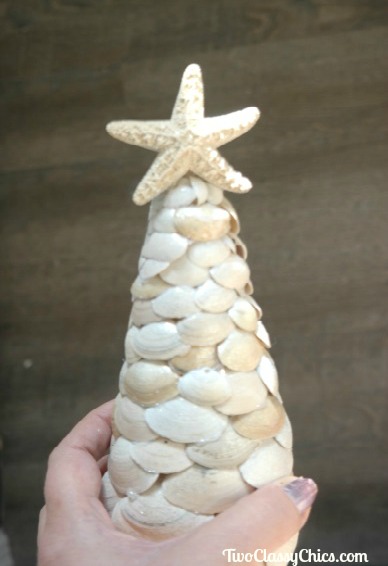 The top of my cardboard cone had a small opening. That was perfect for attaching my starfish tree topper. I sprayed the starfish with the same clear glitter spray as the seashells. I cut a wooden down to measure about 3″ in length and glued the starfish to it using hot glue. I left it dry and set up. I then squirted hot glue down into the hole and inserted the wooden dowel down into the hole. By doing it this way, the starfish sits perfectly straight on top of my Christmas tree.
You'll want to let your entire Seashell and Starfish Christmas Tree dry overnight. Once dry, you can set them all over your home and use them as coastal and beach holiday decorations. When displaying them, I personally think they look the best when displayed in groups of three and of varying heights. Just my 2 cents on that! Plus, you can use your finished seashell Christmas trees as unique tree toppers on your holiday tree!!!
* This post contains affiliate links. If you make a purchase, we may or may not receive a small commission which helps to support this site. Thank you!