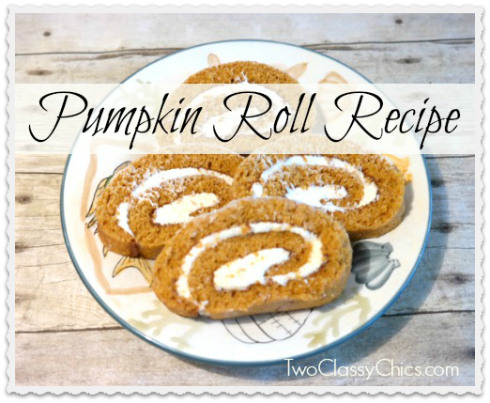 Twenty-Five years ago my grandmother taught me how to make her famous homemade pumpkin roll with cream cheese filling. This recipe is easy-to-make, but does take some time to prepare. With that said, you're baking efforts will be well-rewarded with a delicious pumpkin roll that you and your family can enjoy.
Pumpkin Roll with Cream Cheese Filling Recipe
3 large eggs
1 cup granulated sugar
2/3 cup pumpkin puree
1 teaspoon lemon juice
3/4 cup all-purpose flour
1 teaspoon baking powder
2 teaspoons ground cinnamon
1/2 teaspoon salt
1 teaspoon allspice
In a large mixing bowl, beat together the large eggs until they get slightly thick and frothy. Beat in the granulated sugar, pumpkin puree and lemon juice. In a large mixing bowl combine together the all-purpose flour, baking powder, ground cinnamon, salt and allspice. Slowly stir the flour mixture into the first bowl, beating as you go along until all ingredients are well combined.
Line a 17″ by 11″ baking sheet with waxed paper or a nonstick silicone baking mat. Pour the batter onto it and use a silicone spatula to spread the batter to each of the four corners. Bake in a preheated 350 degree F. oven for 12-15 minutes or until done. Remove cookie sheet from the oven. Lay a clean cotton or muslin towel onto your counter and dump the pumpkin cake onto the towel (in one piece). Roll the cake (along with the towel) up like a sleeping bag. Let it cool for 1 hour.
Cream Cheese Filling Recipe
1 teaspoon vanilla extract
1 cup confectioner's sugar
4 tablespoons butter
2 (3 ounce) pkg. cream cheese, softened
In a large mixing bowl, beat together the vanilla extract, confectioner's sugar, butter and cream cheese until the filling is nice and creamy. This is best done with an electric hand mixer.
Unroll the pumpkin cake so that it is laying flat. Take a silicone spatula and spread the cream cheese filling all over the top of the pumpkin cake. Roll cake back up and wrap in plastic wrap or aluminum foil. Refrigerate until serving time. Right before serving, cut the pumpkin roll into individual slices and serve on a platter or in a nice bowl.
* This post contains affiliate links. If you make a purchase, we may or may not receive a small commission which helps to support this site. Thank you!