Last week my mom spent a few days at our home and we worked on some of our holiday baking projects. On our to-do list was making a batch of Pumpkin Oatmeal Muffins and dropping them off at our local senior center. When I say "batch", I actually mean that we made 6 batches of them using the recipe below. You can enjoy them as-is or if you really want to kick them up a notch…warm them in the microwave and then drizzle a little bit of melted honey butter on top. Delicious!!!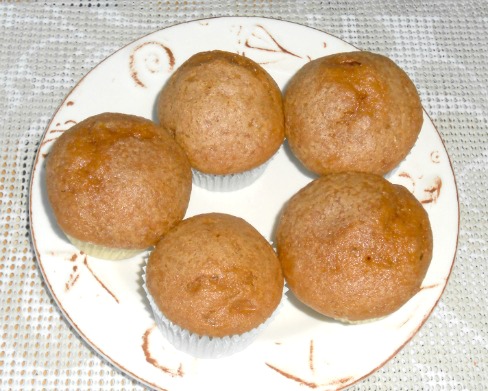 Pumpkin Oatmeal Muffins Recipe
1 1/2 cups all-purpose flour
3/4 cup light brown sugar
1 tbsp. baking powder
1 1/2 tsp. pumpkin pie spice
1 cup quick oats (oatmeal)
1/2 tsp. baking soda
1 cup canned pumpkin puree
1/3 cup vegetable oil
3/4 cup milk (we use low-fat milk)
1 large egg, beaten well
Preheat oven to 375 degrees, line a 12 cup muffin pan with paper liners or lightly grease the inside of your muffin pan.
Combine all of the dry ingredients in a large mixing bowl. In a medium mixing bowl, combine pumpkin puree, milk, vegetable oil and the egg, blending well. Stir pumpkin mixture into dry ingredients until just moist. Fill muffin cups 2/3 of the way full and bake for 15-18 minutes or until done.
Remove from oven and cool muffins on a wire rack. Store in an airtight container.
Variations: If desired, you can opt to add-in a 1/2 cup of raisins or a 1/2 cup of semi-sweet chocolate morsels to the batter before baking. If you're going to add-in one, I suggest "hand stirring" the addition into the mixture.
* This post contains affiliate links. If you make a purchase, we may or may not receive a small commission which helps to support this site. Thank you!