Put some "Wow" into your gift giving this holiday season with a subscription to Once Upon A Book Club . Whether you give a one month, 3 month or 12 month subscription, the lucky recipient will be giddy when it arrives at her door. With a multi-month subscription, it is truly the gift that keeps on giving!
* Complimentary Product Received for Review.
Here is the experience:
The gorgeous book shaped pink box arrives on her doorstep. Upon opening, she will first grab for the book to see what is in store. Excitement will build when she sees 3-5 perfectly wrapped gifts complete with little notes that say which page number they should be opened upon reading. The enclosed 5″ X 7" quote print will foster intrigue and she will want to dive right into the pages of the book to reveal more. She will check her calendar to make sure she keeps track of the read-a-long dates, Meet the Author events, live discussions and gift openings with fellow Book Club Members on social media.
When she finally gets to the anticipated page where she opens her first gift, she will get goose bumps from the authenticity of the contents. The gifts are so carefully chosen to correspond with the book that the experience is absolutely unforgettable! For example, if a character in the book is gifted a special floral hand-painted mug of yellow, red and teal, subscribers will be prompted to open a gift with that EXACT mug at the exact moment in the book, as if the reader is truly a part of the story.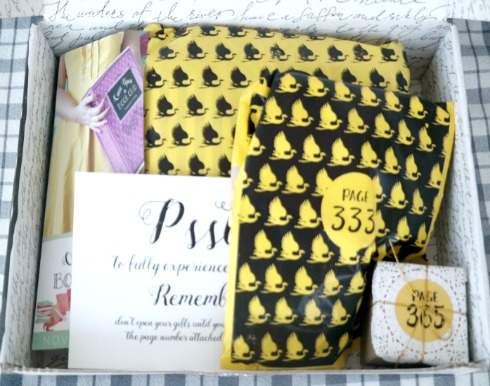 What's in the box?
* Newly released contemporary, general or historical fiction book (choose either adult or young adult)
* 3-5 individually wrapped gifts with page numbers from the book, not meant to be opened until you reach the given page – bringing the book to life!
* A 5×7 quote print featuring a quote from the selected book
* Discussion questions (featured both on Facebook and Instagram) and read-a-long dates for live discussions and gift openings with fellow Book Club members!
Always an avid reader, owner and designer Michelle Wolett found herself constantly inspired by books. After reading The Nightingale by Kristin Hannah, Wolett found herself in a different world when reading the book and once it was over, she immediately became motivated. What if we could create something that makes you feel like you were physically a part of that world? You would become so engrossed by your book and then open a package to find an item that was just mentioned in it! It would feel like the reader is actually there. Brainstorming new ideas, Wolett came up with Once Upon A Book Club!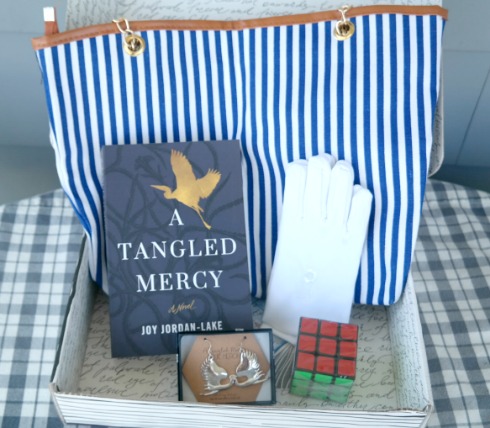 My Thoughts: I enjoy reading but I do admit, I don't get much free time to read like I used too. With that said, when I do sit down to read…I want a book that I can really sink my teeth into and one that puts me in another time or place.
I received a complimentary 1 month subscription box and let me tell you, I was pleasantly surprised at what I received. You really get a lot for your money! Inside my box I received a blue & white striped tote bag, a pair of white gloves, a pair of silver pierced earrings, a puzzle cube and the book titled "A Tangled Mercy" by author Joy Jordan-Lake. All of the goodies inside my box correlate with the story!
Book Synopsis:  A Tangled Mercy is an American epic rooted in heartbreaking true events examining the harrowing depths of human brutality and betrayal, and our enduring hope for freedom and forgiveness.
After the sudden death of her troubled mother, Harvard Grad student Kate Drayton walks out of her lecture and her entire New England life. Haunted by unanswered questions and her own uncertain future, she flees to Charleston, S.C., the place where her parents met, convinced it holds the key to understanding her fractured family and saving her career in academia. (this is the shortened version of the synopsis).
I think this is an amazing gift to give to a friend, loved one or to yourself! Unlike other type's of book clubs, this one is truly special and offers something unique. It was fun to read the book and as you come across a particular page in the book, you open up the wrapped item that goes along with that particular page and correlates beautifully with the story. You're not just getting a great book to read…you're getting several special items/gifts to go along with it!
Once Upon A Book Club is available in Adult and Young Adult choices with prices ranging from $34.99-$390.000. Plans range from One Month to Three Months, Six Months, and 12 Months. What an affordable gift to give or to receive! You can connect with the company over on Facebook to join-in on the conversation!

Disclaimer: Shelly received complimentary products to feature in this blog post. Shelly did not receive any monetary compensation. Shelly's thoughts, opinions and words are 100% her own unbiased opinion. Your thoughts may differ.