The Christmas holiday is just around the corner and we've been really busy baking dozens, upon dozens of holiday cookies. Every year my mother and I bake at least 12 different type's of cookies and give the majority of them to a local assisted living center for the residents to enjoy. Those seniors love getting homemade cookies during the holiday season.
If you have the time and a little extra money this holiday season…consider baking up an extra batch or two of homemade cookies and donating them to a senior center, homeless shelter or veteran's center for others to enjoy. We love giving back to members of our community and this is one way that we like to do it.
Here's a little tip: If you find that your cookies are becoming too hard, place them in a container with one piece of bread (I like to use the crust). Cover container tightly and let them sit for 6-8 hours. Remove the slice of bread. Your cookies should now be soft again!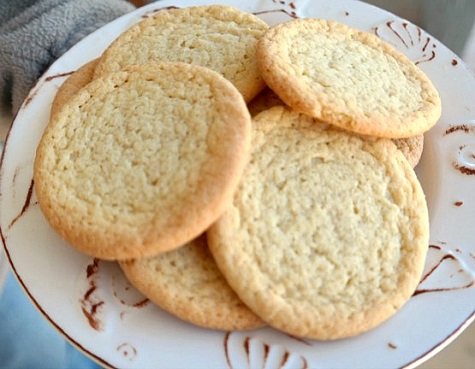 Old-Fashioned Sugar Cookies Recipe
1 cup butter, softened (not margarine)
3/4 cup granulated sugar
1 large egg
2 cups all-purpose flour
1 tsp. baking powder
1/4 tsp. salt
1/4 tsp. ground cinnamon
Beat the softened butter and granulated sugar together in a large bowl with an electric mixer at medium speed until creamy and smooth. Add in the large egg, beat until fluffy. Stir in the all-purpose flour, baking powder, salt and ground cinnamon until well blended. Form dough into a ball and wrap in plastic wrap or place into a large zipper-close gallon-sized bag. Refrigerate for 2 to 3 hours.
Preheat oven to 350 degrees F.
Separate the dough into manageable portions. Drop dough onto lightly greased baking sheets using a tablespoon. Use the back of a spoon to flatten the cookie dough.  Try to make all of your cookies the same size and shape. This will help to keep things even during the baking process.
Bake for 7-8 minutes or until they are lightly browned. Let cookies stand on cookie sheet for 1-2 minutes before moving them to a wire rack to cool. Store in an airtight container.
* This post contains affiliate links. If you make a purchase, we may or may not receive a small commission which helps to support this site. Thank you!