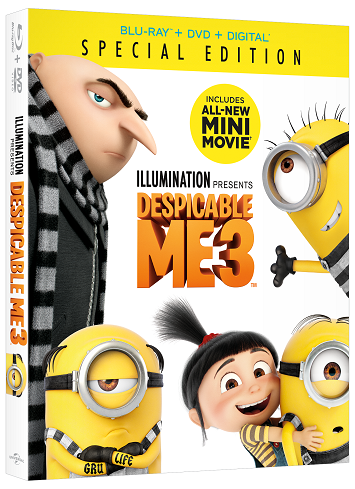 Illumination and Universal Pictures Home Entertainment present Despicable Me 3 on Digital and Digital 3D November 21st, 2017 and on 4K Ultra HD, Blu-ray™, DVD and On Demand December 5th, 2017.
* Complimentary DVD Received for Review.
The characters beloved by everyone – Gru, his wife Lucy, their three adorable daughters—Margo, Edith and Agnes—and the Minions provide hours of family fun in this heartwarming subversive comedy from Academy Award®-nominated producer Chris Meledandri (Despicable Me Franchise) and directors Pierre Coffin (Despicable Me Franchise) and Kyle Balda (Minions 1 & 2, The Lorax).
Hailed as "the best Despicable Me movie yet," by Ali Plumb of BBC Radio 1, with over $949 million in global ticket sales, Despicable Me 3 is the ultimate holiday gift, with almost an entire hour of exclusive bonus features including an all-new mini-movie, a never-before-released deleted scene, and much more!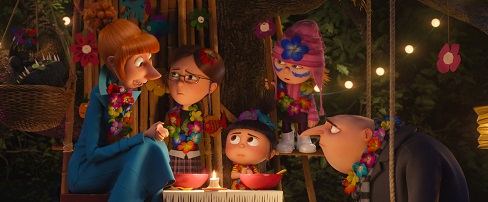 Illumination, the studio that brought you Sing, The Secret Life of Pets and the Despicable Me franchise, continues the adventures of Gru and his family in Despicable Me 3. After he is fired from the Anti-Villain League for failing to take down Balthazar Bratt, the latest evil mastermind to threaten humanity, Gru finds himself in the midst of a major identity crisis. But when a mysterious stranger shows up to inform Gru that he has a long-lost twin brother — a brother who desperately wishes to follow in his twin's despicable footsteps — the former super-villain rediscovers just how good it feels to be bad.
Academy Award® nominee Steve Carell (Foxcatcher) reprises his hilarious role as reformed criminal mastermind Gru, as well as his newly discovered twin, Dru. The all-star voice cast also features Kristen Wiig (Despicable Me 2), Miranda Cosgrove (Despicable Me 1 & 2), Steve Coogan (The Secret Life of Pets), Jenny Slate (Zootopia, The Secret Life of Pets), Dana Gaier (Despicable Me 1 & 2) and legendary singer and actress Julie Andrews (The Sound of Music).
Check out this hysterical trailer for the movie! Funny and Entertaining!
We invited our 2 grandchildren, our godson and 2 of our nephews over for a family movie viewing party. All of the kids have seen Despicable Me 1 & 2 and were excited to see the newly released addition, Despicable Me 3.
From start to finish this movie will have you glued to the TV screen! It's really funny! I'm not into slap-stock comedy and this certainly isn't that! The movie has a great story line that is entertaining and fun! It's one of those animated movies that the entire family will enjoy…from the littlest ones and clear up to senior adults.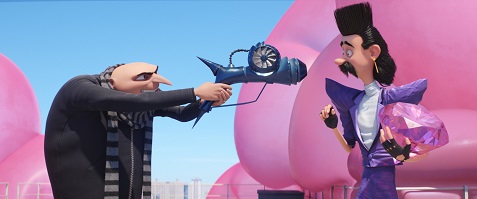 After watching the movie with the kids I asked them for their opinions. 4 out of 5 of them told me that Despicable Me 3 is their absolute favorite one out of the three movies. My godson voted for the original Despicable Me, but everyone else agreed that this new one is the best one out of the entire franchise.
Here's a free printable activity sheet for the kids! Print them out and let them work on the activities before, during and after the movie. We always print several of them and when the kids need some quiet/sit-down time…I hand them these fun sheets to do!
The Despicable Me 3 Movie DVD is available for purchase now and would make the perfect holiday gift! You can follow the movie over on Facebook and chat with movie fans!
* This post contains affiliate links. If you make a purchase, we may or may not receive a small commission which helps to support this site. Thank you!

Disclaimer: Shelly received complimentary products to feature in this blog post. Shelly did not receive any monetary compensation. Shelly's thoughts, opinions and words are 100% her own unbiased opinion. Your thoughts may differ.