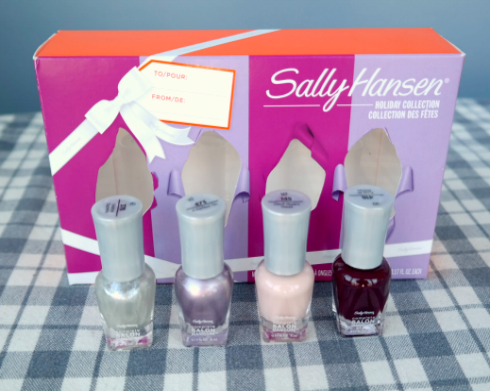 Jazz up those tips and get jolly with the Sally Hansen Complete Salon Manicure™ holiday collection of mini sets; quaint quartets of festive polishes in festive hues. The Sally Hansen Complete Salon Manicure™ offers 7 benefits in 1 bottle, allowing you to skip the salon, for a party ready manicure. The chip-resistant polish with Keratin features all of the elements you know and need: base coat, strengthener, growth treatment, salon color in chic shades, top coat, and gel shine finish. The Complete Salon Manicure mini sets are ideal for stocking stuffers and holiday gift exchanges- or just a treat for a bit of self-indulgence.
* Complimentary Products Received for Review.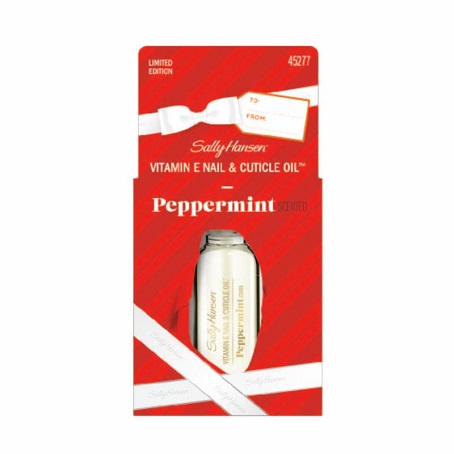 Sally Hansen Vitamin E Nail & Cuticle Oil in Peppermint and Vanilla Buttercream, $6.99. For a limited time only, Sally Hansen's Vitamin E Nail & Cuticle Oils come in two delicious holiday scents. The oils are available in either tasty vanilla buttercream or refreshing peppermint. Indulge your senses with the creamy and merry aromas that celebrate the holiday spirit. Your cuticles and nails crave moisture and protection during the cold holiday season, so grab these Sally Hansen Vitamin E Nail & Cuticle Oils for the perfect stocking stuffer gift. Enriched with a natural essential oil complex with Vitamin E, its formula leaves skin and nails feeling hydrated, soft, and healthy while helping to protect nails.
My Thoughts: Every 10-14 days I enjoy sitting down and giving myself a full manicure and pedicure. I know a lot of women enjoy going to the salon to get it done, but I enjoy doing it myself and doing it at home. It's more cost-effective and a huge time-saver for me.
For this beauty feature I received one of the Sally Hansen Complete Mini Manicure Sets and a bottle of the Sally Hansen Vitamin E Nail & Cuticle Oil to try out for all of you. I've been using Sally Hansen nail products for over 25+ years and absolutely love them! Personally, I think they're some of the BEST out in the retail marketplace.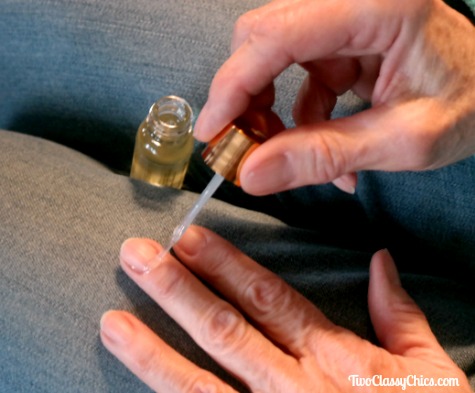 In my mini manicure holiday collection box I received 4 mini-size bottles of nail polish in the following colors: Rags to Riches, Devil Wears Nada, A Perfect Tin and Gleame Supreme. Each of the mini nail lacquers holds .17 fl. oz. Perfect "try-me" sizes, travel sizes and giftable sizes!
A few days ago I gave myself a manicure and pedicure and I started off with the Sally Hansen Vitamin E Nail & Cuticle Oil. What's really cool about this product is that it's Vanilla Buttercream scented! It smells oh, so…good! To use the product, you want to brush it onto your nails and cuticles every night. I like to do it in the evening while I'm sitting down and watching TV. It dries within a minute or two. This oil helps your nails to look more even, smooth and to be stronger. It keeps your cuticles looking healthy and moisturized too.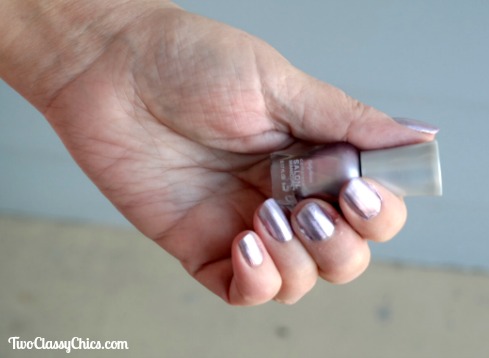 I decided to paint my nails for the upcoming holiday with the Sally Hansen "A Perfect Tin" nail lacquer which I absolutely LOVE! It's the perfect shimmery very pale mauve with a silver shimmer. Perfect for daytime and nighttime looks! What's really nice is that I ONLY needed one coat and I got full coverage. Next, my nails were completely dry within 20 to 25 minutes. Finally, if you dread stinky and smelly nail lacquers & polishes, you're really going to enjoy these! I could "barely" smell anything at all while painting my nails!
You can find Sally Hansen nail care products at various retailers across the nation and from several retailers online. I've been using their line of products for many years and always recommend them to my friends and family. You can connect with the brand and chat with fans over on Facebook too.
* This post contains affiliate links. If you make a purchase, we may or may not receive a small commission which helps to support this site. Thank you!

Disclaimer: Shelly received complimentary products to feature in this blog post. Shelly did not receive any monetary compensation. Shelly's thoughts, opinions and words are 100% her own unbiased opinion. Your thoughts may differ.