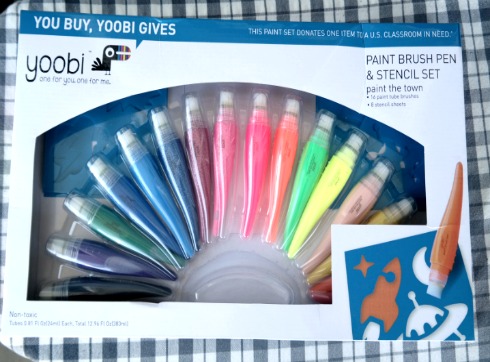 Looking for easy craft projects to do with the kids this winter? If so, we've got a fun one to tell you about today. The best thing about this kid's craft project is that everything that you need comes packaged in an affordable craft kit from Yoobi! The ONLY thing you need to add to it is a painting surface, for example: large seashells, wood blocks, ceramic tiles, tote bags, etc.
* Complimentary Product Received for Review.
First, let me tell you about our sponsor for this feature – Yoobi. The company is based on a bright yet simple idea: colorful, vibrant supplies for school, home or office that give to classrooms in need. For every Yoobi item purchased, Yoobi contributes a Yoobi item to a classroom in need, right here in the U.S.! So while we're in the spirit of giving thanks – now is the time to support a great brand that is dedicated to giving back!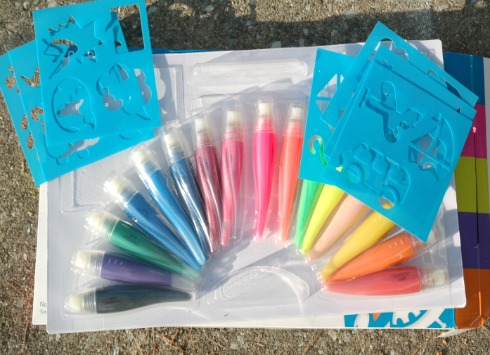 We received a complimentary Paint Brush Pen & Stencil Set from Yoobi and it comes with 16 paint tube brushes and 8 sheets of plastic stencils. There are several designs on one stencil sheet. Designs for boys and girls! What's really cool about this kit is that there won't be any messy paint bottles, jars or paint brushes!
The kit is really easy-to-use. You'll find a painting surface (we used a large clam seashell) and hold down or tape down the stencil. Unscrew the cap and remove the seal on the paint brush pen. Each one has a sponge-tip applicator and the paint will flow into it and then onto your painting surface. We found it best to "dab" it onto our surface, instead of swiping it like a regular paint brush. By dabbing, we got an even paint flow and no paint ran underneath the stencil.
Let's talk about the included paint! You'll get 16 paint tubes and all of the paint is non-toxic. You'll get a dark purple, dark green, dark blue, bright blue, glitter blue, mauve glitter, neon pink glitter, neon pink, neon orange, neon green, neon yellow, peach, yellow, orange and red paint colors. Fun!!! Lot's of colors to choose from.
With this kit…you can do MORE THAN just paint with it! For example, we used several of the plastic stencil sheets to make foam refrigerator magnets! My granddaughter simply placed the stencil sheet onto foam craft sheets and used a pencil to trace around the design. She then used scissors to cut out the design and decorated the front of her designs with fine-tip colored markers. Once dry, she flipped them over and glued on magnets. Left them dry for 8 hours and they were ready for her to slap onto the front of the refrigerator.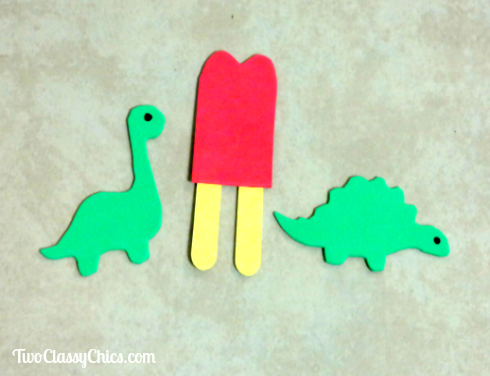 You can do a lot of different things with this one craft kit from Yoobi! Let the kids paint on wood, fabrics, ceramic tiles, glass surfaces and more! They can make items for themselves or to give as gifts. Once they're done…slide everything back into the handy storage box and store it on a shelf. It doesn't take up a lot of space at all.
* This post contains affiliate links. If you make a purchase, we may or may not receive a small commission which helps to support this site. Thank you!
You can learn more about this particular craft kit and the other products that Yoobi has to offer by visiting Yoobi's website online and by connecting with the company on Facebook.

Disclaimer: Shelly has personally reviewed the product listed above.  Shelly has not received any monetary compensation for her review. Shelly did receive a free product to try out so she could evaluate and use it for her review. Her thoughts & opinions in this review are unbiased & honest and your opinions may differ.  Please read our Terms of Service & Disclaimer Policy before entering the giveaways. Thanks!