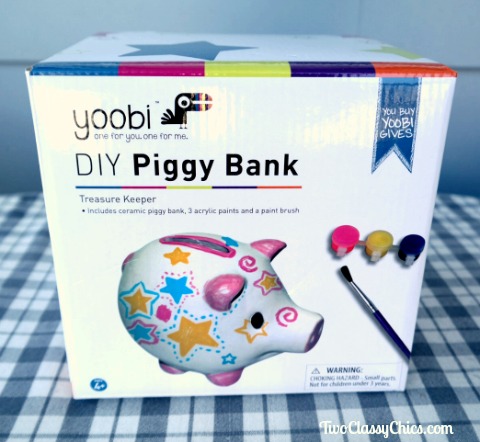 Looking for an easy craft project to do with the kids this winter? If so, we've got a fun one to tell you about today. The best thing about this kid's craft project is that everything that you need comes packaged in an affordable craft kit from Yoobi!
* Complimentary Product Received for Review.
First, let me tell you about our sponsor for this feature – Yoobi. The company is based on a bright yet simple idea: colorful, vibrant supplies for school, home or office that give to classrooms in need. For every Yoobi item purchased, Yoobi contributes a Yoobi item to a classroom in need, right here in the U.S.! So while we're in the spirit of giving thanks – now is the time to support a great brand that is dedicated to giving back!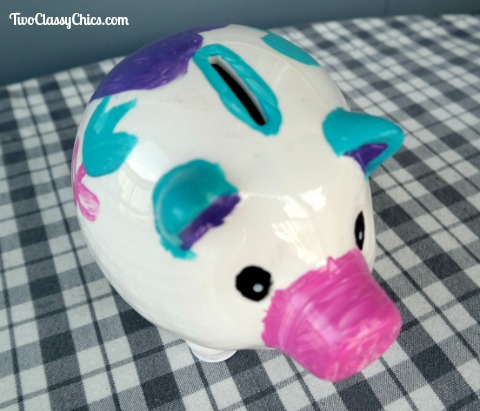 We received a complimentary DIY Piggy Bank Treasure Keeper Craft Kit from Yoobi for our Crafting with Kids feature here on the blog. The kit comes with a ceramic piggy bank, a paint brush and 3 acrylic paints. You can pick up additional paint colors at your local craft store or if you don't want to mess with paints, pick up a few colorful markers! You can also use a combination of both!
If you can't find this DIY craft kit at your local store, you can pick up a plain ceramic piggy bank and some colorful Sharpie markers at your local Dollar Store and do the same thing! I used the kit for the convenience of it all.
The ceramic piggy bank measures 16 cm by 13 cm by 13 cm in size. It's your standard size piggy bank with a rubber plug on the bottom, so that your child can remove their coins.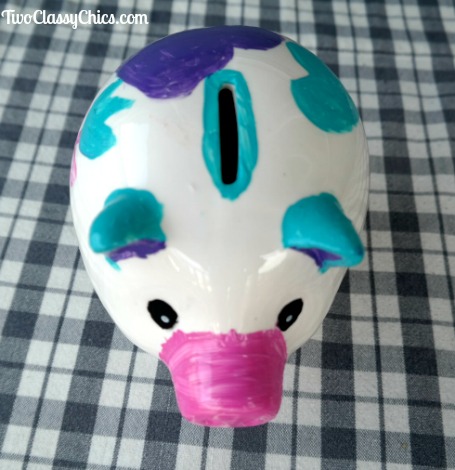 When doing craft projects like this with the kids, I highly suggest that you let them come up with their own designs! Let them get creative and use the paint colors that they want to use and let them add the designs that make them happy! Way too often parents are hovering too much and instructing their kids on what to do, just because they want "Pinterest-Worthy" photos. Hogwash on that! Let your kids do their own artwork!
As you can see, I left my 8 1/2 year old granddaughter do her own artwork on her new ceramic piggy bank. We then left it dry overnight. To protect her painted artwork from scratching and chipping, we decided to take it outside and give it a light coat of clear acrylic spray sealer in a glossy finish. You can pick that up at your local craft supply store and it comes in a spray can. Just give it a light coating, let it dry for 8 hours and you're done!
* This post contains affiliate links. If you make a purchase, we may or may not receive a small commission which helps to support this site. Thank you!
As you can see, her new Ceramic Piggy Bank from Yoobi turned out beautifully. You can learn more about Yoobi and the products that they have to offer by visiting their website online or by connecting with the company over on Facebook.

Disclaimer: Shelly has personally reviewed the product listed above.  Shelly has not received any monetary compensation for her review. Shelly did receive a free product to try out so she could evaluate and use it for her review. Her thoughts & opinions in this review are unbiased & honest and your opinions may differ.  Please read our Terms of Service & Disclaimer Policy before entering the giveaways. Thanks!