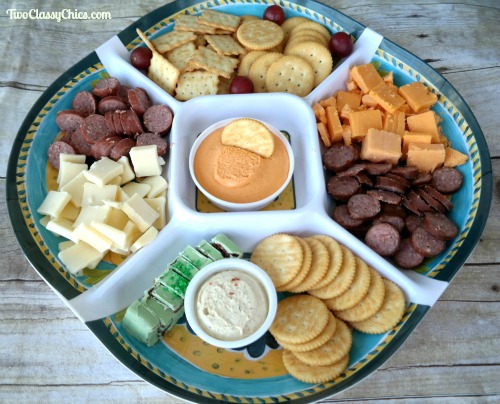 The holidays are just around the corner, so I thought I would share some of my personal tips with all of you on How to Create the Perfect Cheese and Appetizer Holiday Tray. While I'm no expert, I do like to entertain (a lot) during the holiday season and here are some of the things I've learned over the years.
Cheese Tray Tips
Plan to serve five to six cheeses, selecting distinctly different styles, flavors and textures.
With an abundance of artisan crafted cheeses produced worldwide, you can focus on cheeses from a single country or region; select by mild, medium or strong flavors; or you can select from categories such as soft, firm, hard and blue.
Soft Cheeses: Brie, Camembert, Feta, Colby
Semi-Soft Cheeses: Mozzarella, Havarti, Monterey Jack, Brick, Muenster
Medium Cheeses: American
Semi-Hard Cheeses: Cheddar (mild, medium and sharp), Provolone, Gouda, Jarlsberg, Colby Jack
Hard Cheeses: Parmesan, Asiago, Romano, Gruyere
Blue Cheeses: Stilton, Roquefort, Gorgonzola, Maytag
Cheese is best served at room temperature, which means it's a good idea to remove it from the refrigerator one hour before serving. Be sure to keep it covered to prevent it from drying out. Serve your cheese tray with tasty sides.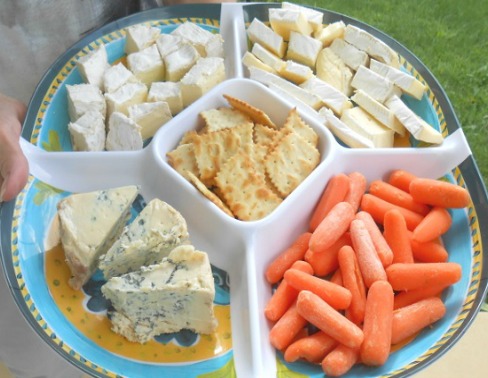 Fresh Vegetable Tray Tips
When it comes to vegetable trays, you want to utilize the freshest vegetables as possible. Wash them up 1 day ahead of time. You'll want to air dry them or pat them down with clean paper towels to remove moisture.
Slice and dice all veggies and place in individual containers with lids. Refrigerate them until you're ready to use them. Remove from the refrigerator and arrange on the vegetable tray no earlier than 2 hours ahead of time.
If you're serving veggie dip, keep it refrigerated until serving time. It's best to serve 2 different dips and go with the more popular flavor varieties.
You should serve a minimum of 4 different vegetables on your tray. Make sure you think about color arrangement. Don't serve all green veggies!
Meat Tray Tips
I always recommend that you serve at least 4 different meats if you're putting together a meat tray. All meats should be kept refrigerated in separate packages until just before serving time.
To go along with the meat…offer a variety of cheese and crackers too!
Cracker Tray Tips
When putting together your cracker tray, you'll want to offer a minimum of 4 different varieties. Just like veggie trays, you want to make your tray colorful, so offer up white, yellow, orange, etc. colored crackers.
Personally, I like to offer up both Artisan and traditional cracker varieties when I'm putting together a tray.
Keep your spreads and dips refrigerated until right before serving time.
* This post contains affiliate links. If you make a purchase, we may or may not receive a small commission which helps to support this site. Thank you!