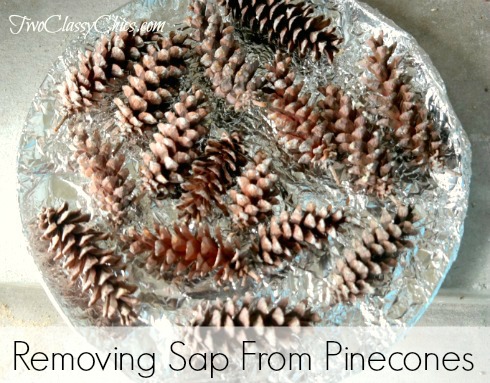 We're now into the month of December and if you haven't started your wintertime crafting yet, it's time to get moving! One of the things we like to collect during this time of the year to use in our craft projects is pinecones! With that said, pine cones can be really messy to deal with when they're covered with sticky sap!
When collecting them, I recommend that you wear an old pair of gardening gloves to protect your hands. As you collect them, you'll want to pull off any pine needles or small twigs before tossing them into your bucket. If you happen to get that icky stuff on your hands, the best way to remove it is with a little nail polish remover and then wash your hands with warm, soapy water.
Over the years I've found that baking the pinecones in my oven was the BEST WAY to remove the sticky sap. You'll want to preheat your oven to 225 degrees F. While the oven is preheating, line your baking sheet (cover the sheet completely) with aluminum foil. Put your old garden gloves on and then lay the pinecones in a single layer onto the baking sheet. Leave some space between each one to allow the heat and air to circulate between them.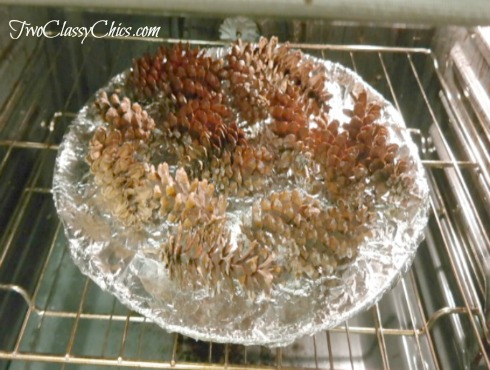 Place the baking sheet into the oven and bake them for 10 to 15 minutes at 225 degrees F, then turn the oven down to 200 degrees F and bake them for an additional 5 to 10 minutes. Remove the baking sheet from the oven and allow them to cool on the sheet. You'll notice that about 1/2 to 3/4 of the sap has melted off and is now laying on the aluminum foil and then rest is still on the pinecone. Don't worry though, as they cool it will turn clear, shiny and hard. It will no longer be sticky and icky. Once they're cool, you can pick them up with your bare hands, without the gardening gloves. Yippee!
By baking them in the oven over low heat you're killing any little critters that may be hiding inside them and you're remove a good portion of that sticky sap, and what's left behind will harden up. They're now ready for all of your wintertime crafting projects.
* This post contains affiliate links. If you make a purchase, we may or may not receive a small commission which helps to support this site. Thank you!