Have you all seen the new HERSHEY'S S'mores Pieces in the baking aisle at your local grocery stores? I spotted them right on the shelf beside the chocolate chips and other baking goodies. The bag contains HERSHEY'S milk chocolate chips, graham cookie pieces and mini marshmallows. On the back of the bag is their recipe for making HERSHEY'S S'mores Pieces Cookies.
Well, I've made S'mores cookies before but I always had to put together my own graham pieces, chocolate chips and miniature marshmallows. As soon as I saw this bag sitting on the shelf, I tossed it into my grocery cart as I knew it would be a huge time saver and I was right!
A few days ago I made the recipe that was printed on the back of the package and wanted to share it with all of you. It will make approximately 32 cookies.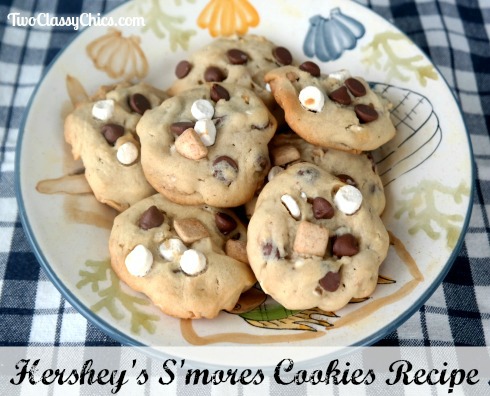 HERSHEY'S S'mores Pieces Cookies Recipe
Prep time:
Cook time:
Total time:
This is the recipe that is printed directly on the package. Copyright The Hershey Company.
Ingredients
¾ cup butter or margarine, softened
¾ cup packed dark brown sugar
1 egg
1 tsp. vanilla extract
1¾ cups all-purpose flour
1 tsp. baking soda
¼ tsp. salt
1 pkg. HERSHEY'S S'mores Baking Pieces, divided
Instructions
Preheat oven to 350 degrees.
Beat butter and brown sugar in a large bowl until well blended. Add in the egg and vanilla extract, beat until thoroughly blended. In a separate bowl stir together the all-purpose flour, baking soda and salt. Gradually blend into butter mixture.
Set aside a ½ cup of the HERSHEY'S S'mores Baking Pieces. Stir the remaining amount into your cookie batter, until combined.
Drop dough by a heaping teaspoon onto an ungreased baking sheet. Randomly push reserved baking pieces into tops of unbaked cookies.
Place baking sheets into the oven and bake for 8-10 minutes or until set. Remove from oven and let them cool for 1 minute on the baking sheet. Remove and place them onto a wire rack to cool. Once cool, store in airtight containers.
* This post contains affiliate links. If you make a purchase, we may or may not receive a small commission which helps to support this site. Thank you!