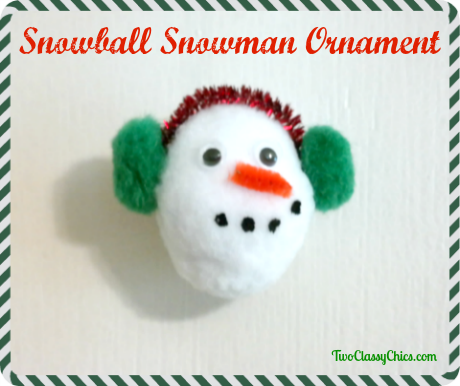 Looking for some last-minute holiday crafts that the kids can do? If so, I think you'll really appreciate our kid's craft project that we're featuring today. One of our sponsors for our regular crafting with kids projects here on the blog has graciously donated a craft kit for us to use and feature today.
First, let me tell you about our sponsor for this feature – Yoobi. The company is based on a bright yet simple idea: colorful, vibrant supplies for school, home or office that give to classrooms in need. For every Yoobi item purchased, Yoobi contributes a Yoobi item to a classroom in need, right here in the U.S.! So while we're in the spirit of giving thanks – now is the time to support a great brand that is dedicated to giving back!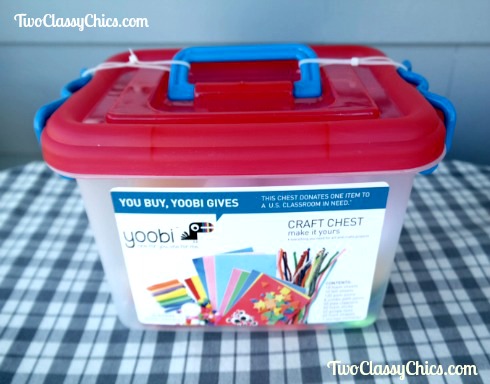 For this project we received a complimentary CRAFT CHEST (kit) from Yoobi. This CRAFT CHEST contains: 10 foam sheets, 10 felt sheets, 120 pom-poms, 8 jumbo pom-poms, 50 pipe cleaners, 50 foam sticks, 40 googly eyes, 60 foam shapes and it all comes nicely packaged in a plastic, reusable storage container.
DIY Easy Snowball Snowman Holiday Ornaments
1 CRAFT CHEST by Yoobi
Scissors
All-Purpose, Quick-Drying Craft Glue
Black Acrylic Paint
Paint Brush, Water Dish and Paper Towel
Clear Fishing Line and Sewing Needle
From the CRAFT CHEST you'll need one jumbo pom-pom and two small pom-poms. We selected the white jumbo and the two green small pom-poms for our snowman. You'll also need one metallic pipe cleaner, one orange pipe cleaner and two small googly eyes, also from the CRAFT CHEST. We were able to make 8 of the ornaments by using supplies in the CRAFT CHEST.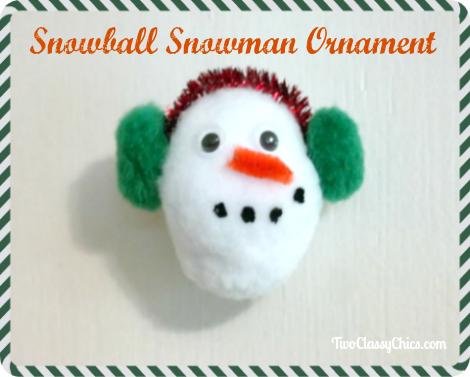 Use scissors to cut the metallic pipe cleaner to measure 2 1/2 to 2 3/4″ in length. The length will depend on the size of jumbo pom-pom that you use. Using the craft glue, glue that small piece of pipe cleaner to the top of the white jumbo pom-pom to serve as the headband. Smoosh the two smaller pom-poms between your fingers to flatten them a little bit. You want them to look like ear muffs and then glue one to each end of your snowman's headband. We had to hold all of this in place for about 4 minutes to allow our craft glue to set.
Glue two small googly eyes onto the face. Make sure you use just a tiny dot of glue, so that the glue doesn't ooze out from underneath the eyes. Cut a 1/4″ to 1/2″ length from the orange pipe cleaner. This will serve as the nose and you'll glue it underneath the eyes. We like the look of it being slightly slanted on his face.
Cut 6″ of clear fishing line. Thread end through a sewing needle and then thread it underneath the pipe cleaner headband, pulling one end through. Make a double-knot close to his head and then make a hanging loop with another double-knot. Trim ends with scissors.
To finish up: Dip the end of a paint brush into black acrylic paint. Dot on 4-5 dots onto his face to serve as his mouth. It will take 30-45 minutes for your acrylic paint to dry, so do this step LAST and then set your ornaments aside to dry.
Like this quick and easy kid's craft project? You can find oodles of them here on our blog, including this easy-to-make Snowman Christmas Tree Ornament made from toilet paper tubes!
* This post contains affiliate links. If you make a purchase, we may or may not receive a small commission which helps to support this site. Thank you!

Disclosure: We received a complimentary craft kit to use and feature in this blog post. No monetary compensation was received. We were free to use the kit however we wanted and decided to make the snowman ornaments that we've featured in our post today. Thanks!