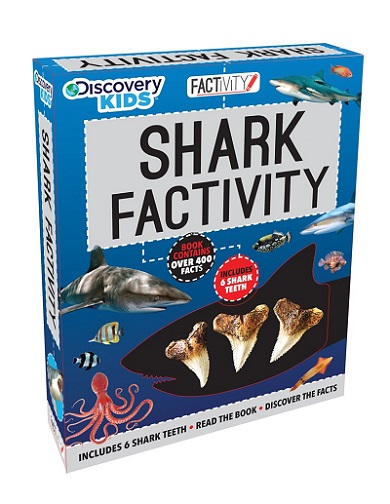 For the past 3 years we've had the pleasure of featuring several different items from Discovery in our Annual Holiday Gift Guides and I'm really excited to be featuring them again this year! Even though we've only been featuring their items for 3 years, I've been buying their toys & games for even longer than that!
* Complimentary Item Received for Review & Feature.
For this Holiday Gift Guide feature we received the Discovery Kids Shark Factivity Kit for Kids.  The kit includes: 6 Shark Teeth and an Educational Book where children can dive into the amazing underwater world of sharks! They will learn incredible shark facts and they can put their new Shark Teeth on display if they choose to do so.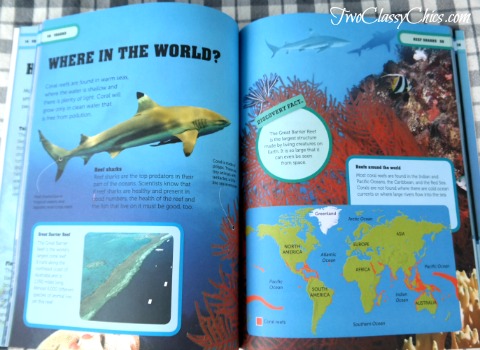 The soft-cover book is titled: The Underwater World of Sharks and contains over 400 facts and activities about sharks for hours upon hours of learning fun!  Here are some facts that we learned from the book.
– Sharks are found in all of the oceans of the world. Some are fierce-meat eaters and others feed on tiny plants and animals.
– The Thresher Shark has the longest tail of any shark.
– Sharks are not normally aggressive around divers & swimmers. If a shark does get too close, they recommend pushing it on its nose.
– Whale Sharks are found worldwide in tropical and warm temperate waters.
– The Goblin Shark lives in the very deep ocean and very little is known about it. Only 45 specimens have been studied to date.
– The huge & aggressive Great White is the most dangerous shark in the world. It has attacked more people and boats than any other species of shark.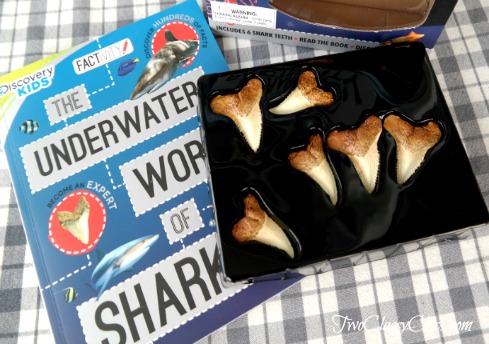 I enjoy giving my grandchildren educational holiday gifts and the Shark Factivity Kit is absolutely perfect for holiday gift-giving. My 8 year old granddaughter and 11 year old god-son have been reading the book together, learning the shark facts and studying the 6 included faux shark's teeth. Fun for sure!
The Shark Factivity Kit by Discovery Kids is available at various retailers across the nation. You can find it on Amazon for a really great price!
* This post contains affiliate links. If you make a purchase, we may or may not receive a small commission which helps to support this site. Thank you!

Disclaimer: Shelly received complimentary products to feature in this blog post. Shelly did not receive any monetary compensation. Shelly's thoughts, opinions and words are 100% her own unbiased opinion. Your thoughts may differ.