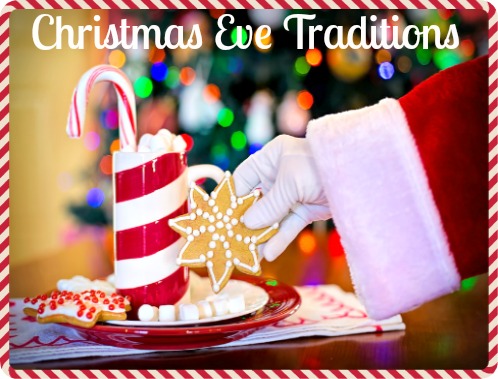 Tomorrow is Christmas Eve and my family is getting ready for all of our annual Christmas Eve Holiday Family Traditions. Many of our traditions were started when our daughter was a little girl. Over the years we've expanded them and now we celebrate those same traditions with our grandchildren.
Here's a few of our fun things we like to do on Christmas Eve. They're in no particular order.
1. Book Reading – We have 3 children's books that my husband likes to read to the kids. Two of these books he started reading to our daughter when she was little and the third one is a new book that we added 4 years ago. My grandchildren love the book called Reindeer Dust which includes a recipe to make homemade reindeer food.
2. Reindeer Food – You can't leave Santa's reindeer out on all of the holiday fun! In a large mixing bowl we toss together some oatmeal, chopped carrots, raisins and other "goodies" for the reindeer. The kids put half of it in our front yard and the other half in their front yard at their house. This way the reindeer can enjoy a snack at each house when Santa comes to deliver presents.
3. Holiday Movies – We have a few classic holiday made-for-TV movies that we like to pull out during the holiday season. The kids flip a coin and the winner gets to select which animated movie that we watch together as a family. Almost every year…it seems to be Rudolph the Red-Nosed Reindeer as our Christmas Eve movie!
4. Holiday Music – If a book isn't being read or a movie isn't playing on TV, you'll find holiday music playing throughout our house! We enjoy the good old-fashioned holiday music.
5. Cookies & Hot Cocoa for Santa – Every year we put out a plate of holiday cookies for Santa along with a cup of hot cocoa. We used to do milk until our daughter pointed out one year that Santa must get cold riding around in his sleigh during the wintertime, so we switched from milk to hot cocoa to help keep Santa warm. You can find our Soft and Chewy Chocolate Chip Cookies Recipe right here on the blog.
6. Family Dinner – We like to get together early in the evening for a simple family dinner. We don't go all out like we do on Christmas Day. We keep it pretty simple and easy. Just a basic hot meal together as a family.
7. New Pajamas – I like to get the kids a new pair of pajamas every year for the holidays. I don't get Christmas theme'd ones…just a new basic set of nice warm pajamas. I wrap them up and give them their new pajamas on Christmas Eve. They can then wear them to bed that night and look decent for photos in the morning!
8. Evening Mass – We're catholic and our church offers an evening mass and a midnight mass. We go to the evening mass together as a family. We find that going to the evening mass is a lot easier on the kids than the midnight mass.
Christmas Eve Day and Evening is quite a busy time for our family. Do you and your family have any special Christmas Eve family traditions? If so, I would love to hear them!
* This post contains affiliate links. If you make a purchase, we may or may not receive a small commission which helps to support this site. Thank you!