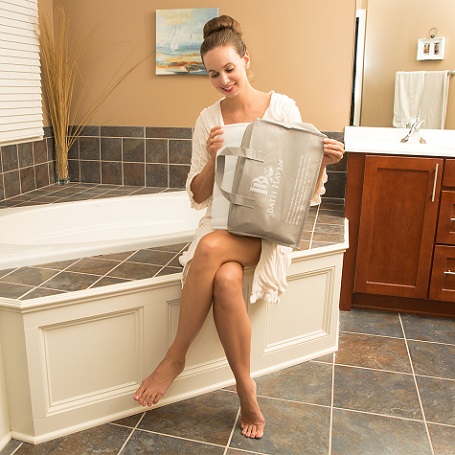 After a long day, I enjoy taking 20-30 minutes of "ME TIME" to enjoy a bubble bath every night. It's a great way to relax and to prepare my body for some much needed sleep. I like to set a relaxing mood in my bathroom, including flameless candles, mood-enhancing fragrances and comfortable bath supplies.
* Complimentary Product Received for Review.
Sitting in a bathtub can be an uncomfortable experience for most of us. The porcelain is often times cold, slippery and hard. When it comes to total relaxation, you need to pick up one of these Bath Haven Quilted Air Luxury Escape Bath Pillows!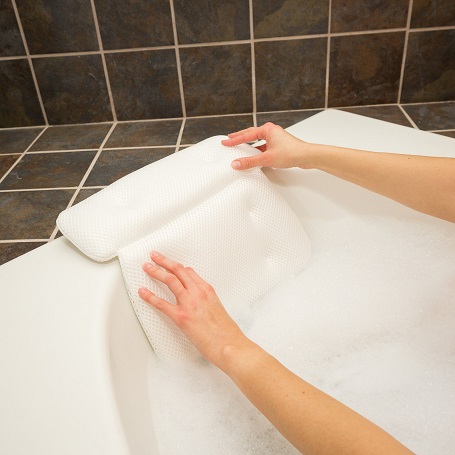 Product Features:
Superior Design
3D Air Mesh Technology
Anti-Mildew Quick Dry Material
Easy Care, Machine Washable
6 Extra-Strength Suction Cups
What is QuiltedAir 3D Mesh? It's a silky soft exterior layers that are quilted together with vertical polyester fibers, which create a unique hollow air core in the center. This technology provides optimal support, elasticity and comfort…while allowing air and water to circulate through.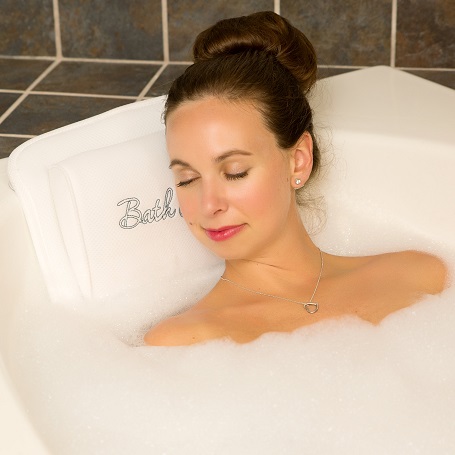 The Bath Haven Quilted Air Luxury Escape Bath Pillow comes with a handy storage/travel bag and a mesh laundry bag, so that you can toss it into your washing machine when it needs cleaned.
In the past…I've used inflatable plastic bath pillows and frankly, I hate them. The plastic was cold and stuck to my skin. They got leakage holes in them easily and they weren't comfortable to use. On top of that, they got mildew & mold fast and I often tossed them away within 2-3 weeks of use. Blah!
I received the Bath Haven Quilted Air Luxury Escape Bath Pillow 2 weeks ago and let me tell you, it's NOTHING like those bath pillows of yesteryear. NOTHING! It's covered in a soft mesh material, so when you're laying against it…it feels soft against your skin and you don't stick to it at all. Your back, shoulders and neck are perfectly cradled and comfortable.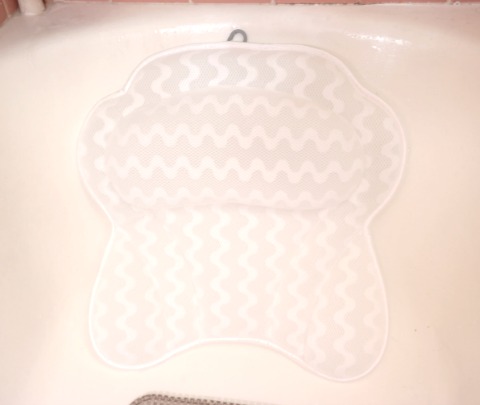 It measures a whopping 17″ by 17″ in size. You get plenty of coverage with it. I'm a medium-sized woman and it works perfectly for me. My husband (yes, he enjoys bubble baths) is twice my size and it works perfectly for his body too! We do a lot of traveling and I really appreciate that they included a storage bag, so I can take my bath pillow along with me. As an added bonus, you also get a mesh laundry bag along with it, so you can wash it in your washing machine! How cool is that? Totally cool.
Bath Haven is perfect for travel and has three different solutions to make your bath a delight and one additional solution to making bathing your little ones pain free and finally giving your knees the comfort they deserve!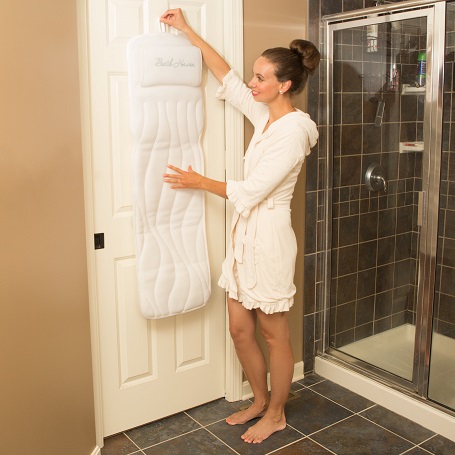 * QuiltedAir™ BathBed™ Deluxe Luxury Bath Pillow for Full Body Comfort
* QuiltedAir™ BathBed™ Luxury Bath Pillow for Full Body Comfort
* QuiltedAir Luxury Bath Pillow with 3D Air Mesh Technology
* Premium Bath Kneeler and Elbow Rest
I can 100% tell you that this is the BEST bath pillow that I've ever used! Seriously, THE BEST! You can learn more about the Bath Haven products by visiting the company's website online and by joining them over on Facebook.

Disclaimer: Shelly received complimentary products to feature in this blog post. Shelly did not receive any monetary compensation. Shelly's thoughts, opinions and words are 100% her own unbiased opinion. Your thoughts may differ.