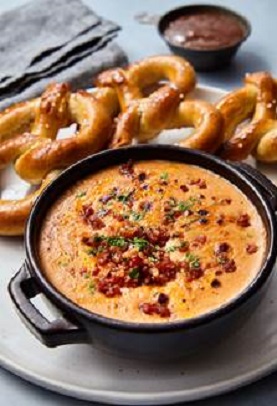 We're officially well into the football and basketball season and many of us are attending football parties, family get-togethers and pre-holiday events. Whether you're hosting a party or taking a dish along with you, here's a great appetizer recipe that's courtesy of THE COCOA EXCHANGE.
Bacon Ale Cheese Dip Recipe
1/2 pound bacon slices
1 Tbsp. butter
1/2 yellow onion, diced
1 Tbsp. Dijon mustard
1 Tbsp. POD & BEAN™ Stone Ground Mustard
8 oz. cream cheese, softened
12 oz. dark brown ale
6 cups sharp cheddar cheese, shredded
Soft pretzels for dipping
Preheat oven to 350 degrees F.
Add bacon to a large skillet over medium heat. Sauté for ten minutes until just crispy and then remove and place on a sheet tray lined with foil. Allow bacon to cool and then rough chop.
In a large saucepan on medium heat, melt butter and then add the onions and cook until soft, about 3-4 minutes.
Whisk in the Dijon mustard, POD & BEAN™ Stone Ground Mustard, and the ale, scraping up the bits from the bottom of the pan.
Increase the heat and bring to a boil and cook for 5 minutes, stirring occasionally.
Add the cream cheese and reduce the heat to medium. Whisk the cream cheese into the ale mixture until the cheese melts and becomes creamy. Turn off the heat.
Slowly add five cups cheddar cheese to the ale mixture, stirring until the cheese melts and is smooth.
Stir in 3/4 of the bacon and save the rest to sprinkle on top.
Spray a 1 quart baking dish with cooking spray. Pour the dip into the dish and top with the remaining cheddar cheese and the rest of the crumbled bacon.
Bake for 20-25 minutes or until the dip is bubbling. Serve warm with soft pretzels.
* This post contains affiliate links. If you make a purchase, we may or may not receive a small commission which helps to support this site. Thank you!