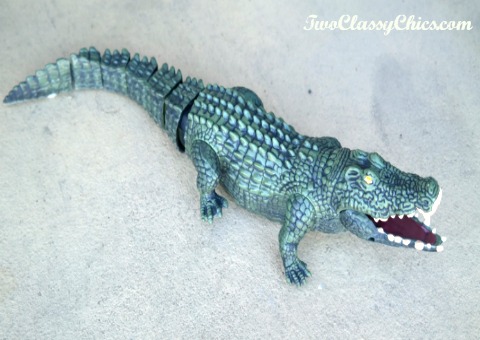 For the past 3 years we've had the pleasure of featuring several different items from Discovery in our Annual Holiday Gift Guides and I'm really excited to be featuring them again this year! Even though we've only been featuring their items for 3 years, I've been buying their toys & games for even longer than that!
* Complimentary Item Received for Review and Feature.
For our 8th Annual Holiday Gift Guide we received a complimentary Animal Planet RC Alligator Encounter to review for all of you. This item is for children ages 5 years and up. You will need to supply the required 2 AA batteries and the 3 AAA batteries that are needed to make it operate.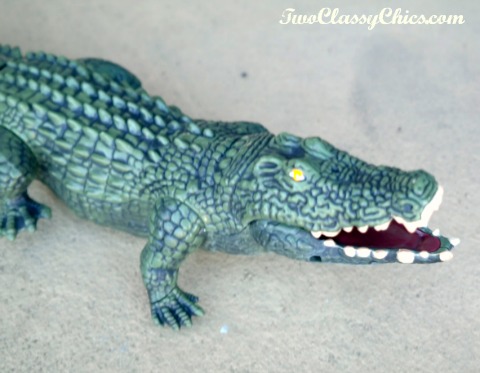 Produce Features:
– Light-Up Eyes
– Chomping Jaws
– Life-Like Motion
– 2.4 GHz Wireless Remote Control
– 18″ Long
When purchasing this item, please take note of the batteries that are needed and pick those up at the same time. As soon as your child gets their new Alligator out of the box, they'll want to play with it right away. So, don't forget the batteries!
One of the things that my grandchildren like about the RC Alligator is the light-up eyes. If you look closely at my photos…you'll see that the eyes are yellow in some (they're lit-up) and in one picture they're black (not lit-up). My grandson loves those eyes!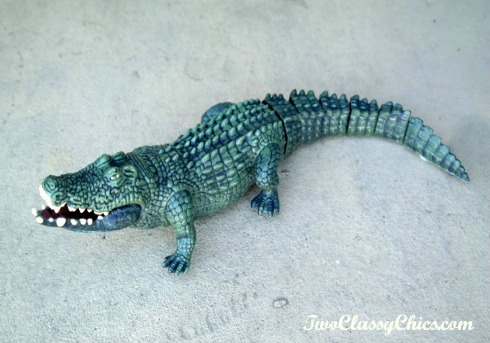 Next, the alligator is pretty large…measuring in at 18″ in length. The wireless remote control is perfectly-sized for a child's hand, so it's easy for them to hold and use. The kids like making the alligator walk around, swing his tail and of course…open and shut its jaws! He looks fierce!
My grandchild LOVE their new Animal Planet RC Alligator and have been playing with it a lot. They like taking it outside onto the porch where he moves really great. If you have carpeting in your home, he doesn't move quite as well, so have the kids play with it on a smooth floor surface for best results.
The Animal Planet RC Alligator Encounter is available at various retailers across the nation and on Amazon for a really great price. You can connect with Animal Planet over on Facebook.
* This post contains affiliate links. If you make a purchase, we may or may not receive a small commission which helps to support this site. Thank you!

Disclaimer: Shelly received complimentary products to feature in this blog post. Shelly did not receive any monetary compensation. Shelly's thoughts, opinions and words are 100% her own unbiased opinion. Your thoughts may differ.