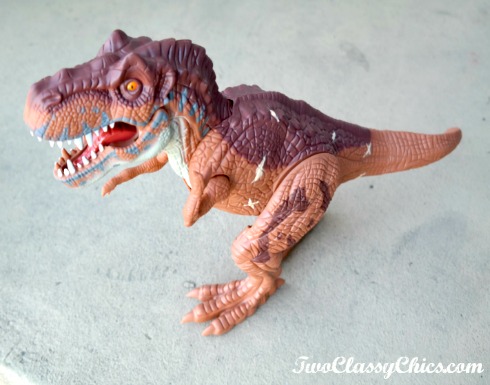 For the past 3 years we've had the pleasure of featuring several different items from Discovery in our Annual Holiday Gift Guides and I'm really excited to be featuring them again this year! Even though we've only been featuring their items for 3 years, I've been buying their toys & games for even longer than that!
* Complimentary Item Received for Review & Feature.
For this Holiday Gift Guide feature we received the Animal Planet Interactive T-Rex Dinosaur to review for all of you. This item is for children ages 5 years and up, and it allows children to interact with the mighty T-Rex.
Product Features:
* 6 Dino Sounds Activated by Motion and Touch
* Different Touch Points on T-Rex to Activate
* Mouth sensor to Activate Motion
* Includes 3 AA Batteries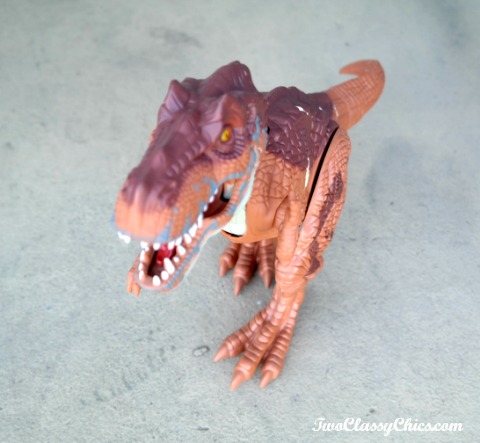 Did you know that T-Rex weighed up to 8 tons and measured over 40 feet long? Well he did! This Tyrannosaurus Rex allows your child to get up close and personal with T-Rex, one of the most popular dinosaurs in the world. T-Rex was one of the most skilled hunters and scavengers, out of all of the dinosaurs.
I gave this item to my grandchildren to play with and they love it. My 8 1/2 year old granddaughter can play with it unsupervised, but when my 2 1/2 year old grandson plays with it…we supervise him carefully with it, since he's under the recommended age of 5 years.
This T-Rex is very realistic and is both motion and touch-activated. The sounds that he makes are pretty realistic and the kids enjoy hearing him growl. My grandson is fascinated with all of the teeth that T-Rex has! What a great interactive toy to help teach your child about dinosaurs and they can have fun during the learning process.
You can find the new Animal Planet Interactive T-Rex at various retailers across the nation and at Amazon for a really great price! Looking to connect? You can connect with Animal Planet over on Facebook.
* This post contains affiliate links. If you make a purchase, we may or may not receive a small commission which helps to support this site. Thank you!

Disclaimer: Shelly received complimentary products to feature in this blog post. Shelly did not receive any monetary compensation. Shelly's thoughts, opinions and words are 100% her own unbiased opinion. Your thoughts may differ.